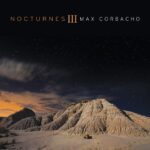 If the album title alone makes you drowsy, you know what to expect. This is the third part of the Nocturnes trilogy that started in 2017 (Part I) and 2018 (Part II).
On the 73 minutes of this third edition, Barcelona-based Max Corbacho "continues his exploration of stillness and primordial, organic themes."
The tracks vary in length from 2'41" to 25'14", but can also be enjoyed as if they were one single uninterrupted composition: all share an overwhelming atmosphere of deepest night, captured in spacey 'classic ambient' synth waves.

The music is directly linked to the photos of the artwork that is featured in the series: they were taken by Corbacho on his nocturnal walks to the places where he found his inspiration for this music.

"The most vivid memory of these nights is the silence, the stillness, the sparkling light of the stars and the sweet fragrance of thyme that permeates everything in these regions of Aragon in Spain".
---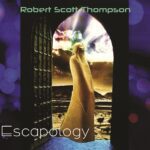 ROBERT SCOTT THOMPSON – ESCAPEOLOGY
With some 42 album releases since 1987, but already creating music since 12 years before that, Robert Scott Thompson can be seen as one of the veterans of classic ambient music. For Escapeology, he wanted to return to the (/his) sound of the mid-'90s and further explore from there.

There's always some level of 'escapism' in ambient music, but even more perhaps in the music that is created during the 2020 pandemic, such as in this case.
"The concept revolves around the compelling desire to escape the pandemic's confining nature and its various impositions, and the concomitant opportunity to delve within, explore inner worlds of imagination and engage in reverie in solitude and isolation, all necessary ingredients for the continuing studies of the escapologist."

The nine tracks on this 72-minute album present a varied set of soundscapes, all of them firmly rooted in the '90s ambient sound. Escapeology is released on Somewherecold Records in a limited physical CD-edition of 50, but also available as a much less limited download.
---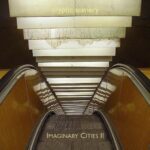 On the follow-up to 2019's Imaginary Cities, Cryptic Scenery (Christian H. Sötemann) further explores three new 'cities'.
The three long tracks (each around 20 minutes) are quiet explorations, continuous guitar-loops completed with 'signature guitar motifs consisting of the octavised root note (first the higher note, then the lower one)'.

If these were real cities they would not exactly be bustling with activity. It feels more like they're totally abandoned, like a city in total lockdown at night would be. All the more reason to explore the surroundings without the need to hurry!
Perfect drones to lay back, close your eyes and visualize your own evening stroll.

Like its predecessor, Imaginary Cities II is self-released as a name-your-price download.