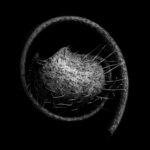 Tokyo-based sound artist Yui Onodera presents an ode to the Nasu region in Japan, 'home to a harmonious coexistence of northern and southern plant species'.
On the hills of the Nasu mountains, Junya Ishigami created the 'Water Garden', an ever-evolving masterpiece of landscape art that 'blurs the lines between architecture, landscape design, art, and environmentalism.

This inspired Onodera to create a musical 'symphony of nature'. Expect a lot of environmental sounds of rain, murmuring water, rustling trees, and the whisper of leaves to converge with the warm sounds of synths and electric guitar. There is nothing new in the use of environmental sounds in ambient music (in fact it seems to be some kind of standard), but few recordings feel as well-balanced as a Japanese garden.
Minizuwa is released on the Decaying Spheres label. Unfortunately, the cassette editions are already sold out, so for now only the digital download remains.
---
YUI ONODERA & TAKASHI KOKUBO – THOUSAND BELLS
Yui Onodera teams up with Grammy-nominated musician, composer, and sound designer Takashi Kokubo. I must admit I had never heard of Kokubo before but he seems to have played a significant role in shaping the ambient music landscape in Japan. And not just ambient music: on his Discogs page (53 albums since 1980!) we learn that he also created the nationally-used mobile phone earthquake alert and numerous credit card payment jingles.
Thousand Bells is a very short (13'44" in 4 tracks) but extremely satisfying album, combining Onodera's soundscapes and Kokubo's traditional Japanese instrumentation. The tinkling notes of the bells (even if not thousand by far) are as fresh as the morning dew, and easily 'transport the listener to a realm of serenity and introspection.'
For only 14 minutes, unfortunately.
Thousand Bells is released on Constellation Tatsu.