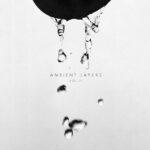 In their ongoing Layers-series, the 7K! label presents piano-, string-, wind-, ambient-, and duet layers. Some of them already two volumes: the Piano and String layers before, and now there's also a second volume of Ambient Layers, It is a digital-only release presenting 21 previously unreleased tracks (97 minutes) 'that outline and take a picture of the current underground ambient scene'.

There are familiar artists that can generate interest (like KMRU, Loscil, Jacaszek, Marconi Union, Skalpel) but the showcase also presents lesser-known artists from all over the world.
Overall, the music also represents a wide range of ambient of the more 'experimental' kind – no new-agey muzak here!
Expect the definition of 'ambient music ' to be somewhat stretched for the occasion: a track like Skalpel's Syntetik (great track by the way) would be more likely to be expected on a volume called Jazz Layers. And Joycut's C-Kdaster or Sundrugs Rapids would perfectly fit on something like Noise Layers.
'Ambient' obviously comes in many colors!
---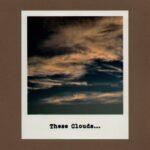 The Sound In Silence label celebrates its 100th release with an 18-track compilation. In fact, it is only their second compilation: the label started in 2006 with a compilation called These Waves…
The compilation covers different – but related – styles: ambient, modern classical, electronica and post-rock.
Many of the artists previously released work on this label, but there are also new names that will be releasing more work in the future. If you're a regular visitor of Ambientblog, you'll definitely find some familiar names in the list of contributors:
Panoptique Electrical, Sven Laux, Yellow6, The Green Kingdom, Benoît Pioulard, Wil Bolton, David Newlyn, Akira Kosemura, Halftribe, A Lily, SineRider, Absent Without Leave, Hotel Neon, worriedaboutsatan, r beny, Jakob Lindhagen, The Humble Bee, and Hainbach.
Like all releases on Sound In Silence, These Clouds… is released in a hand-stamped cardboard envelope, 'with the front cover image printed on a polaroid style photo paper'.
---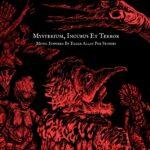 This compilation is considerably darker than the two mentioned before. Of course, this is to be expected from a compilation tribute to Edgar Allan Poe, the legendary writer of macabre mystery tales.
'His meandering stories featuring such things as the onset of plague in a quarantined complex, troubles at sea, a murderer preying upon victims in their homes in the streets of Paris and quite frequently the haunting phantasms of guilt and grief and loss. At the times the supernatural drifts in, it is frequently with a disconcerting subtlety, even when wreathed in Gothic robes'.
The ten tracks on this (63-minute) album are like soundtracks to Poe's stories: frightening, scary, and nightmarish. Just how you expect (and want) them to be. The titles are like summaries: The Masque Of The Red Death, The Premature Burial, A Descent Into The Maelstrom, The Murders In The Rue Morgue. Don't say you weren't warned.
The haunting atmospheres are crafted by – among others – Morgen Wurde, Kloob & Onasander, Rapoon, Michael Bonaventure, Henrik Meierkord.
To complete this release, Eight Tower Records (part of the Unexplained Sounds Network, aka the Network of Aural Disorientation) also released an accompanying book with 13 illustrated Poe tales. Of course, the stories that were set to music on the album are present here. The book and album are also available separately, or as a bundled edition.
So if you want, you can play the music as a soundtrack while you read. Cold shivers are guaranteed.
---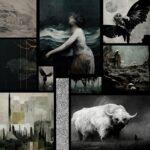 Maps To Where The Poison Grows is not exactly a 'standard' compilation: it is intended as a sneak preview to the subscription series that Lost Tribe Sound will release over the year 2023. This will include 10 full-length albums (of which one is a double-album): each of these releases is presented here with a preview track. This is not the first time Lost Tribe Sound does a series like this: in fact is is already the fifth series.
You can either subscribe to the digital releases or to the CD-versions. If you choose the CD-edition, you'll receive the digital versions on their release date, but the physical editions will be shipped in one shipment on completion of the series to avoid extra shipping costs.
Lost Tribe Sound promises a lot of adventurous music, as can be heard on this introduction compilation:
'This series will expand upon our signature sound… dusted, intense modern composition teeming with electroacoustic experimentation. Elsewhere, heady ritual and slow-driving industrial ambient helps to disrupt, corroded circuitry and late-night alchemy brings comfort in the form of electroacoustic ambient works. Additionally, there's thirty-one minutes of circuit-bending post-folk experimentalism and a mammoth solo debut which explores themes of illness, apotheosis, and death.'

Maps To Where The Poison Grows will present albums by Claire Deak, Lavatone, Skyphone, mastroKristo, R.A. Sanchez, 't Geruis, Kaya North, Drawing Virtual Gardens, From The Mouth Of The Sun, and Civic Hall.