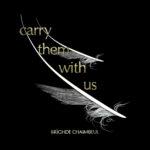 BRÌGHDE CHAIMBEUL (& COLIN STETSON) – CARRY THEM WITH US
Not many of you will probably associate the sound of a bagpipe to 'ambient' music, because of the often rather penetrating sound most people know. But it is probably also the first instrument that comes to mind that produces a distinct 'drone', along with instruments like the tanpoura and the sitar or the hurdy-gurdy.
Brìghde Chaimbeul is a Scottish pipe player from the Isle of Skye. She explains: "I'm always led by the drone. To be a piper you must have a natural attraction to drones. That's the minimalist aspect, the atmosphere it creates, rather than a rhythm. The other side is melody, one or two of them in a tune, repeating them so it becomes trance-like, and getting lost in them a little bit."
Listen to Crònan (highlighted) below and you'll feel what she means by this.
Chainbeul plays the Scottish smallpipe, an instrument that almost was forgotten but which she helped to revive. Compared to the Great Highland Bagpipe, it has a much softer sound – it is suited for playing indoors and with other instruments and has a soft tone similar to a clarinet. (On this page, the three Scottish bagpipes are compared).

On Carry Them With Us she collaborates with the well-known saxophonist Colin Stetson: 'he uses atmospheres that inspired me.' The two instruments fit together beautifully and complement each other's sound – and the same is true for the way they are played.
If you like the sound and tradition of the Scottish pipe, this is mandatory listening. If not, I advise you to set aside your prejudice, open your ears and discover the fascinating sound of Brìghde Chambeul's smallpipe music.
---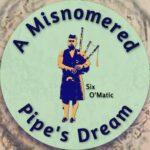 And while on the subject of bagpipes, we might as well check out this unusual release by Six O'Matic – a somewhat enigmatic and mysterious musician from Pittsburgh. His catalog covers all kinds of styles: 'from ambient to Appalachian, from silly to psychedelic'.

'For more than 25 years he's been exploring the sounds in his head before they escape forever'. Besides, he has played the Scottish great highland bagpipe for more than 35 years.
In his own words, A Misnomered Pipe's Dream is 'the ambient bagpipe album nobody asked for […] and nobody realized they needed to hear'.
On the short (22 minute) 5-track album he plays acoustic and electronic bagpipes, combined with synths and electronics. He blends experimental and improvisational methods to create these tracks, which also mean that the music is less rooted in the traditional Scottish culture compared to Brìghde Chaimbeul's album mentioned above. It may come from a different angle, but it's just as much fun to listen to!