[Video by Dave Michuda / image by midjourney]
Could this be 'the saddest mix of all time'? I don't think so myself, I would rather call it melancholic – in a pleasant way. But it's a fact that all of these tracks are in D minor (Dm), which is said to be 'the saddest chord':
"The D minor chord (often written as Dm) is a chord that evokes a sense of melancholy and contemplation on the negative side of situations. Like many other minor chords, Dm can create a heavy, serious atmosphere — and sometimes even creates an almost otherworldly sense of drama."
There are many ambient moments, but (like most Ambientblog mixes) this is not a pure 'ambient' mix, since it includes many 'post-classical' strings and piano moments.

One advantage of selecting fragments based on the chord is that the tracks are selected regardless of the release year. Which feels like 'as if time were the easiest thing to walk' (The Dwindlers).

I am honored that this mix is also featured on Dave Michuda's Low Light Mixes. Dave also created the beautiful promo videos for this mix. Thanks a million for that, Dave!
Tracks included: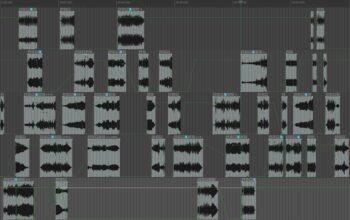 This mix is created using bits, pieces, fragments, samples & edits from the following tracks:
start time sample length Artist – Title
album, year, label
00:00 0:38 Erik K Skodvin & Rauelsson – The Return
A Score For Darling, 2018, Sonic Pieces
00:30 4:47 Erik Wøllo & Michael Stearns – Ruins Of The Past
Convergence, 2020, Projekt
03:49 2:19 Zoviet France – Amber Rose Hand
The Tables Are Turning, 2013, Soleilmoon Recordings
04:40 2:28 Monolake – Allure Publison
Archaeopteryx, 2020, Imbalance Computer Music
05:56 2:42 Mark Tamea – Tower Ch1 Rearranged
Five Augmented Locations (Vol. 1), 2014, EQ:RA
06:51 3:52 Trans Alp – Gymnopédies No. 1
Après Quatre Pièces D'Erik Satie, 2013, Camomille Music
09:32 1:59 Luc Ferrari – Presque Rien No. 2 Ou Ainsi Continue La Nuit Dans Ma Tête Multiple
L'Oeuvre Électronique, 2009, INA-GRM
10:14 2:15 Madeleine Cocolas – And Then I Watch It Fall Apart
Spectral, 2022, Room40
10:40 03:53 Chihei Hatakeyama & Good Weather For An Airstrike – Lost In The City
Falling Sun, 2014, Rural Colours
12:42 3:26 Luke Howard – The Closing Of The Gates (with Budapest Art Orchestra)
All Of Us, 2022, Mercury KX
15:01 3:55 Jacob Kirkegaard – Chasm Chant
Pod Tune, 2018, Not On Label
16:20 5:19 Mendel Kaelen – Light Of Nature
Remembering What Was Forgotten, 2010, Self-released
20:12 4:33 Jon Hopkins – How I Live Now
How I Live Now OST, 2013, Just Music
24:02 2:37 The Dwindlers – Dekuji Praha
Beautiful Unfamiliar, 2019, self-released
26:04 2:13 Simon Fisher Turner – Nanda Devi
The Epic Of Everest, 2013, Mute
27:26 1:51 Jeremiah Cymerman – From The Metaphysical To The Transcendental (for Bill Smith)
Citadels & Sanctuaries, 2021, 5049 Records
28:52 1:40 Don Hill (with Blast Theory) – WRGO (Lunar Lander)
WRGO (What's Really Going On), 2019, self-released
29:48 4:54 Roger Eno & Brian Eno – Obsidian
Mixing Colours, 2020, Deutsche Grammophon
34:09 3:17 Mike Lazarev – When You Are
When You Are, 2022, Slowcraft Records
36:37 4:11 London Docks – Violin Improvisation – La Lluvia
Tangaróa, 2014, self-released
38:47 3:43 Agate Rollings – 1.12 AM – On The Fingers Of A Heat Which Is Burning Out
Meantime/Elsewhere, 2021, Midira Records
41:31 3:52 Gareth Davis – Stone
Souvenirs Van De Woeste Grond, 2014, Esc.Rec
41:38 2:11 Endless Melancholy – Broken
An Introduction To Soft, 2014, Soft Recordings
44:21 1:57 Arve Henriksen – First Life
Chron, 2012, Rune Grammofon
46:12 5:01 Ketil Bjørnstadt & Svante Henryson – Reticence
Night Song, 2011, ECM Records
48:09 1:26 Loscil – Ma.Org (Seque) Re.Mx
Ma.Org Pa.Git.Re.Mx, 2015 Crónica
48:11 2:36 Ben Lukas Boysen & Sebastian Plano – Glacial Sunbeam
Everything, 2017, Erased Tapes Records
50:38 2:54 Anne Chris Bakker – Droesem
Reminiscences, 2014, Dronarivm
52:51 1:23 Greg Haines – Birthday Scene
Touched 3, 2016, Touched
53:26 1:01 Clara Engel & Bradley Sean Alexander – Sleeps Again
Ghost Bird, 2021, Polar Seas Recording
54:26 1:42 Eleni Karaindrou – Adagio
Concert in Athens, 2013, ECM Records
55:59 1:49 Hans Zimmer – The One
Dune OST, 2021, WaterTower Music
57:31 4:00 Voces8 – Ola Gjeillo Still (Arr. Lawson)
Infinity, 2021, Decca Classics
Download In Praise of the Saddest Chord now 138Mb (60 min.)
Alternative download from Archive.org (check here for lossless downloads)]
[Surround-version (DTS.wav/WMA 5.1) here]
OR: Listen on Mixcloud, Spotify or iTunes: