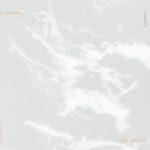 On their 14th album (and the 6th for Moving Furniture Records), Haarvöl explores the 'imposed and artificial' silence during the pandemic, which 'together with the silence, brought a concomitant isolation'. This is reflected in the music, which definitely can be called 'isolationist'.
There is of course a conceptual reference to John Cage, but ironically the (7) pieces on this album are never literally silent.
A side effect of the isolation during the pandemic was that there was a growing need 'to be with others again, to share life and reality (without screens or other devices to disguise the distance)'. This is reflected in the recording process: the music was recorded 'in face-to-face sessions, in which the tracks were built in a live environment […]. What is heard has been played and experienced in a continuous sound dialogue, and yet without a safety net'. So, in fact, it's a kind of live recording.
Haarvöl's core is Fernando José Pereira and João Faria (with Rui Manuel Vieira adding his visuals). But on this album, they collaborate with Martijn Comes (see below also) who added his guitar parts on A Quiet, Indecipherable Tone, and Xoán-Xil López on cello on A Sombre Description Of The Now.
---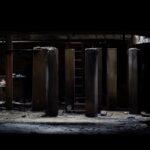 The collaboration between Radboud Mens and Haarvöl led to another project (or maybe it was the other way around): a separate project by Mens (guitartable, dronemachine, field recordings and electronics) and Fernando José Pereira (electronics).
On this 65-minute set of drones, 'time and duration are the subjects', which in fact is the essence of drone music. The pieces all take their time to develop: the shortest is 6'30" and the longest 14'10". Every track is an interesting drone piece with many (sometimes hidden) layers and different sound structures.
This beatless music is quite different from Mens' recent release Continuous/Movement.
The album title is somewhat puzzling, and some of the track titles are, too. There is a lengthy introduction included, but I must confess that I could hardly understand it. In fact, I already lost it in the first sentence:
"Our time, without time, is a condition undergoing naturalization, in other words, it finds that reality is an ally and offers no resistance".
But as far as I understand it, this album is intended as 'a de-anaesthetic record', to escape the 'laboratory in which the players are anesthetized and therefore dazzled by their relationship with reality. Being dazzled, as we know, leads one to become somewhat blind, in a good way, shall we say, while the anaesthetic effect lasts… but then the awakening might be far from pleasant'.
So, it's music as a 'red pill' – to awake back again to reality. But be aware: you'll never know what you'll find there.