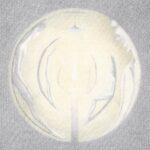 Though she was classically trained in guitar, Polish composer Martyna Basta 'escaped academia at the age of 18, replacing her native instrument with a synth'. Her music is described as 'balancing hush and haunting' – and that is a perfect description.
Slowly Forgetting, Barely Remembering is her third album, the second for Bratislava's Warm Winters label, following 2021's Making Eye Contact With Solitude – she definitely knows how to come up with a captivating title.
Using guitar, voice, manipulated field recordings, and zither, she carefully creates an atmosphere 'approaching what remains lost or unknown'. 'Basta plays with the voice's limits and potential: hers interjects on a spectrum from pure, claustrophobic breath to tense muttering to an even hum'. (The autotuned voice on It Could Be As It Was Forever is not Basta's, by the way, but Claire Rousay's).
There are two tracks called Podszepnik, which is Polish for 'one who secretly whispers, an intimate confidant'. These tracks 'act as the album's two-part centerpiece, between them tracing an arc from a child's murmurs to a full-fledged chorus of open-throat singing that soars above the weight of an electric guitar'.
Martyna Basta may 'make a strong case for the beauty of uncertainty' here, as the liner notes state, but with its reference to dementia in the title it is rather scary at the same time. This music probably won't leave you unaffected.
---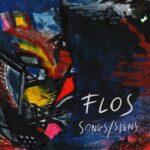 Flos started in 2011 when Stefano Castagna and Luca Formentini met. They decided to work with self-made instruments ('Flos Boards') in their search for 'new composition processes that could facilitate improvisation, electronic treatment and the emission of unplugged, analogue and unconventional sounds'.
Flos Boards were built 'assembling strings, microphones, recycled materials (violin bows, pipes, pens, guitar
pick-ups). They were wired to two computers for the elaboration and editing of the outcoming sounds'.
This already tells us that we can't expect music from trodden paths here. Flos exists 'to generate sounds that could bring the audience back to the mystic, the wonder and the well-being of interplayed, unusual live music'. This usually resulted in playing live improvisations – Songs/Signs is their first album release. (Apart from Il Sogno Blanco (2014) that is, which was the music recorded for an 8-hour action painting performance by Luccio Pozzi in Milan).
The double CD (and/or cassette) release of Songs/Signs is a real two-headed beast. Each part of this set requires a different mindset to be fully enjoyed. On Songs, 'the Flos Boards are tamed to speak the more popular language of the song', with added contributions of various voices and instruments from guests like Laurie Amat, Markus Stockhausen, Steve Piccolo and Claude Voit. By nature, this part of the album has no specific 'ambient' content: it is an adventurous vision on 'popular' music.

While Songs does not particularly aim at the ambient-inclined listener, Signs will definitely appeal to those that can appreciate a varied cinematic instrumental soundscape. Signs 'includes improvisation work coming from the various sessions recorded through the years, rearranged and mixed so as to create an uninterrupted suite of 44 minutes, divided in 15 parts'.
This evocative set of instrumentals spontaneously invokes imaginary visuals.
Unfortunately, there is not much information about the Flos boards itself. I would have loved to know some more details about the 'Tavola di Flos', the 'Saucillator', and the 'Magic drainpipe', and whatever else whas used in creating these fascinating sounds.