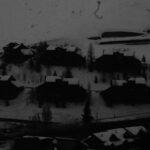 Ali Murray, operating under the name The Lonely Bell, comes from the cold and windy Isle of Lewis in the north of Scotland. If you look that up in Google Maps, there's a lovely picture of a rural landscape not unlike what we know from the Lord Of The Rings movies. But I guess the average weather condition is far less enjoyable. Maybe it's more like the cover of Ghost Town Burning suggests: cold, wintery, desolate.
But desolation can have its own beauty: 'where mysterious echoes of the vast expanse vibrate as deep ache. There is comfort in the unfolding waves and possibility – that maybe the haunt was never meant to frighten, only to liberate – a radiant emptiness nestled in the ruin.'
The two 20-minute pieces on Ghost Town Burning (the title piece and Then The Snow…) breathe the same beautiful desolation. It may be dark and 'unheimisch' (uncanny), yet it's a pleasure to dwell around in it and discover its barely hidden structures. It's a comforting kind of darkness.
Ghost Town Burning is available on CD, and there's also a small (second) batch of cassettes. After that, there's still the download version left.
---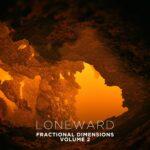 Mike 'Loneward' Carss' Fractional Dimensions series is intended to explore 'slow-moving spaces for contemplation, meditation, and sleep'. So you now you're prepared to immerse yourself in this 66-minute piece called Lacunarity – 'best experiences at low listening levels'.
Lacunarity – I had to look it up – is 'a specialized term in geometry referring to a measure of how patterns, especially fractals, fill space, where patterns having more or larger gaps generally have higher lacunarity.' 
This WIKI-explanation is hard to grasp (for me, at least), but I can see the link to the music involved here, which also may have a kind of fractal structure – perhaps.
But there's of course no need to get analytical here… just lie back, relax and drift away.

Mike Carss, by the way, is also known as Altus. With Loneward, he focuses on his 'purer ambient and drone works'. As Carss states himself: "If you enjoy one Loneward release, you'll enjoy them all".
Edit: Mike Carss added via Twitter:
"To answer the questions you posed in your review:
– The "Fractional Dimension" series is inspired by fractals in nature.
– For "Lacunarity", it relates to the chord swells you hear in the music, representing the gaps or 'lakes'".
---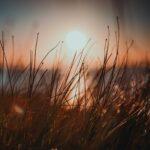 Spanish musician David Cordero (from Cadíz) started releasing music in 2012. But his output started to come in a flood after 2020: in 2022 alone he released seven different albums, solo as well as collaborations.
Endless Loneliness marks the start of 2023, which may or may not be as prolific as the recent years.
That doesn't really matter, of course, it's not the numbers that count but the music itself.
I don't know if the title refers to Cordero's state of mind (and I hope it's not), but it is a good indication of the atmosphere of these ten tracks. This doesn't mean it is a depressing album, however: a title like Disillusionment Mountain is balanced by Nankuraisa – which means 'everything works out over time'. The album ends with Bruno Is Here … let's just assume that is a good thing.
Overall, this album brings 35 minutes of classic ambient without further background explanations. Apart from Distorted Reflection, which features Binary Phaze from Barcelona, all tracks are solo pieces performed by Cordero.