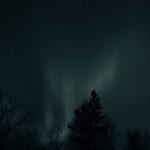 Lorenz Weber recently presented pieces to be played at night (Nachtstücke), and now the follow-up is a sonic cure for a cold and dark winter. Nine tracks (44 minutes) that can best be played in one uninterrupted sequence, quiet, calm, and thought-provoking.
The north is reflected in the titles, all containing fonts that will probably choke your keyboard: ʃ​ne​ː​ʃ​t​ʊ​rm (snow storm), or ʀ​a​ʊ​̯​na​χ​tə (rauhnachte). Rauhnachte refers to the days between the winter solstice and new years eve. 'A time of stillness, of introspection, of looking back at the past year and looking forward to the year to come. This time is excellent for looking into the future, making predictions and getting in touch with the spirits of nature'.
əv T​​​͟​​​Hē n​​​ô​​​rTH is different from Nachtstücke in that here the piano is less prominent here, and the result is much more 'ambient-focused'. The piano only appears in a few tracks (ʃneːʃtʊrm and no​́​rdl​ɪ​ç​t​ɛ​r), tracks that bring some light in the dreamy, near-silent drone formed by the other tracks.
əv T​​​͟​​​Hē n​​​ô​​​rTH is a 'sound journey through the winter of the far north'. An arctic winter that is probably not as calm and peaceful as this music suggests – so its best to stay inside and enjoy the warmth of the fire – and of this music.
---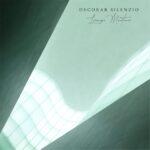 The Projekt Records label generously starts the year with the Name Your Price release of Lorenzo Montanà's Decorar Silenzio. An album 'of soft undercurrents where the drift of movement and stillness linger within muted and heavily processed electronic and acoustic instrumentation.'
Decorar Silenzio ('Decorating Silence') 'tries to capture the soft and subtle feeling I (Montanà) felt those years ago listening to albums like Brian Eno and Harold Budd's Ambient 2: The Plateaux of Mirror — the first ambient album I bought.'
That may an indication of the kind of introspective music you can expect here, but this music is not simply trying to re-create the music of Brian Eno. After all, Lorenzo Montanà has enough experience to create his own style: he started as a musician in the early 90s, released 20+ albums since 2009 (among them a 5-CD series with Pete Namlook), and created music for the Hunger Games (1 & 2), Blade Runner, and more.
The ambiance Montaná creates is softened with a warm touch by using acoustic instruments embedded in the electronic soundscapes: a cello, a guitar, mbira or piano.
Decorar Silenzio is his third release for Projekt Records (not counting the 2 collaborations with Alio Die).