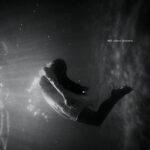 Colours Of Absence is the follow-up album to Original Soundtrack, which was released earlier this year on A Strangely Isolated Place (ASIP) records. Both albums were written during the lockdown of 2020 (as are many recently released albums). The isolation itself made room for some experimentation, which is this case means that Asc (James Clements from San Diego) could focus on the ambient instrumentation of his work.
Compared to Original Soundtrack, Colours Of Absence focuses somewhat more on the ambient soundscapes and somewhat less on the piano, although the piano is still very much present.
This music has nothing of the angst and insecurity experienced during the pandemic lockdowns – it's more like a welcome quiet moment of introspection. Suitable for all moments.
Colours Of Absence is available in clear vinyl (only a few remaining at the time of writing), and of course as a digital download.
---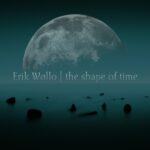 The opening title track starts with a choral introduction. which, in the end, morphs into the guitar-based ambient style we've come to know from Erik Wøllo. Assuming of course that you're familiar with some of his earlier work: after all this productive Norwegian composer has released over 55 albums since 1980 and so may be called one of the veterans of ambient music.
His trademark sound is created with the guitar as a primary instrument to create 'space, drone, new age and electronic music, building a bridge between grand symphonic realms and gentle, minimal and serene atmospheres'. The Shape Of Time is a great example.
'Time remains an abstract term with no shape. It can only be explained as a rate and duration of observed change. Wøllo transforms the abstract into nine compositions of thoughtful and seductive ambient electronic music with melodic soaring themes, vast slow-moving drones and rhythmic patterns drifting in cycles of transmutable harmonies.'
---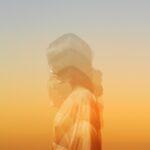 Apart from her solo-work, Hollie Kenniff is also known as one half of Mint Julep – the other half being her husband Keith Kenniff, otherwise known as Goldmund (represented here in three tracks), or Helios.
It would be a bit superfluous to mention this – after all, her work must be judged on its own merits. But still, it's an indication of what kind of music you may expect: meticulously produced tracks full of "cloudlike synths, seraphic strings, humming drones, and reverb-drenched shoegaze guitars, all melding into an impressionistic story of remembrance, loss, family, and connection […] drawing on the deep tones of drone, dream pop harmonies, and new age's bright tranquility."
The album is instrumental, as in no lyrics, but Hollie Kenniff's wordless vocals are omnipresent, as an extra personal layer within the widescreen instrumentation.
Much of this music 'originated in the wee hours of the morning while Hollie dealt with chronic insomnia spurred by anemia'.
'Though difficult, her condition enabled her to deeply investigate the liminal spaces between waking and sleeping, memory and history, and even living and dying.'
You probably won't be able to tell from the music itself, because this sounds like music from an artist that manages to focus on the positive, even when not everything is going well. Music can be a consolation in hard times.