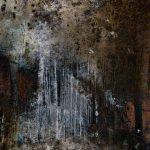 JOACHIM SPIETH – TERRAIN
Terrain is Joachim Spieth's fifth album since 2000, and his fourth on the Affin label which he started in 2012. That is: only counting his full albums, and not the numerous single/EP releases on various labels such as Kompakt.
Terrain aims to create 'a musical language that connects Spieth's music production practice to feelings of proximity to nature'. With Spieth's experience in music production (and the cover design by Markus Guentner), this connection is easily made.

In the eight tracks on this (Terrain 1-8), Spieth focuses on the more contemplative side of nature. "It's an interplay of euphoric flashes and introspection… Soothing frequencies are intended to create a state of awareness in the listener."
The sound has incredible depth. And width. Even with the accents that give these sounds the necessary tension, the music induces an incredibly relaxed state. This is the kind of terrain I love exploring!
Terrain is released (on October 28) on vinyl and digital (no CD).
---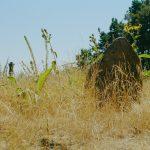 Erik Mowinckel is a self-taught electronic musician from Norway. He began making music around 2008, and – according to Discogs – previously released two cassettes in 2020 and a (digital) EP earlier this year. But Discogs proves to be far from complete: his Bandcamp page shows another six titles. And both don't even mention the previous Contours album, released in July on Kizen Records which is definitely also worth checking out.

His website reveals he's primarily a photographer: about his music he simply states "I also make music".
Listening to his new album Flere Steder Samtidig (which translates as 'Many Places At Once'), I think that simple statement is too modest. As can be expected from a photographer, the music sounds very 'visual', exploring 'abstract and associative narratives through field recording, electronic- and acoustic instruments with an accent on textures and melody.'
Mowinckel creates 'a place without people' (not very hard to find in Norway), 'a quiet and unobserved space that disappears as soon as you enter it'.