Most (if not all) previous Ambientblog mixes always had some dark moments in them, they are never 'just' relaxing. You can only feel release if you also felt tension.
This time, I wanted to avoid the darkness and create a 'lighter mood mix'. Not of the 'Ibiza Chillout Lounge' kind, but one that can be played in the background and is still exciting enough to listen to. I hope I succeeded, but of course, you're the one to decide about that!

With two hours, Cloudwatching is longer than usual. Only a few tracks are included in their full length, but most are heavily edited or even just short fragments. Also, they are often overlayed, so you'll hear the music in a different context. The extensive playlist below may help you track down the original in their full-length versions.
I really hope you'll enjoy watching these -imaginary- clouds!

Massive thanks to Dave Michuda (from Low Light Mixes) for making the beautiful promo and teaser videos, and to Joseph Aleo for co-hosting this mix in his Soundwave series.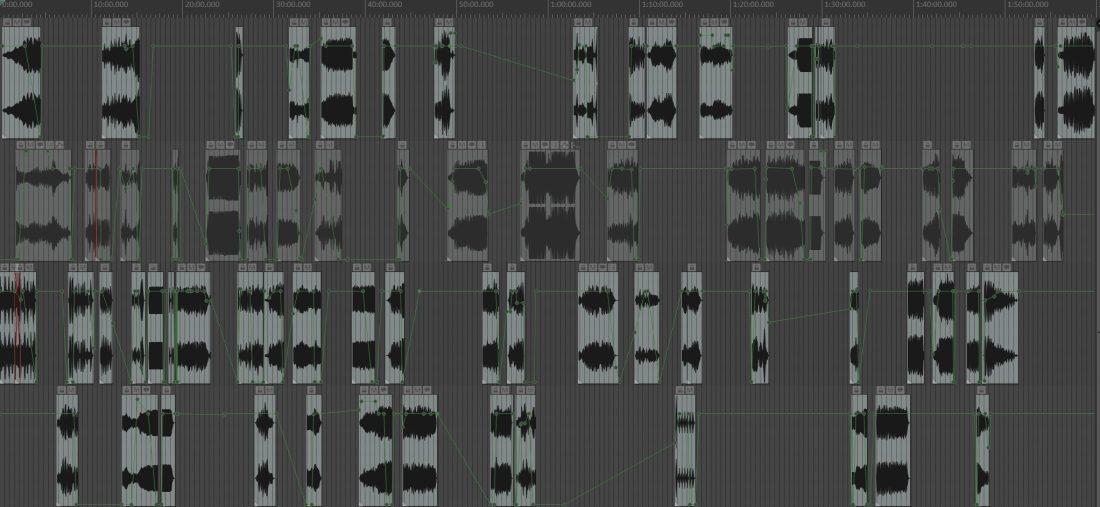 Tracklisting
Start Length Artist – Title
Album Title, Year, Label
00:00 3:58 Francisco López – Untitled #373
Untitled, 2019, Esc.Rec
00:17 4:09 Lawrence English – Pre-Approach – Citizen
Approach, 2022, Room40
01:47 6:04 William Basinski & Janek Schaefer – … On Reflection (Four)
… On Reflection, 2022, Temporary Residence Limited
06:15 4:02 Arve Henriksen, Eivind Aarset, Jan Bang – The Swans Bend Their Necks Backward To See God
The Height Of The Reeds, 2018, Rune Grammofon
09:22 2:59 Masayoshi Fujita – Harp
Book Of Life, 2018, Erased Tapes
11:12 4:07 Mombi Yuleman – Mental Telepathy
Hours Lost, 2022, ZeroK
13:14 2:31 Asmus Tietchens – Paralelle Ebene 1
Parallelen, 2022, Line
14:26 2:41 Abul Mogard – Like Water
Strega Music, 2022, Make Noise Music
16:14 2:48 Keda – La Lune De Corée
Hwal, 2015, Bruit Clair
18:31 4:27 Tapani Rinne & Teho Majamäki – Reflection
On the Border, 2022, Signature Dark
22:34 4:01 Radboud Mens – Convolution
Continuous, 2022, ERS
26:02 3:03 Alex Haas & Michel Banabila – The Woods (ft. Bill Laswell)
Singles (2020-2022), 2022, Tapu Records
27:58 2:01 Imperial Valley – Fields North Of Kane Spring, Oct 8, 1938
Imperial valley III, 2022, Folded Rime
29:03 3:47 James Murray – Clearings
Careful Now, 2022, Home Normal
31:41 2:02 Raum – Daughter
Daughter, 2022, Yellow Electric
32:04 3:05 Tierro Cosmico – Eres Nocturna
Figments Of Wonder, 2022, Neotantra
34:29 2:34 Emmanuel Holterbach – Rivage (Shore)
Le Rêve, L'Ombre Et La Vision, 2022, Canti Magnetici
35:09 3:51 Holland Patent Public Library – A Road I've Passed But Never Taken
Songs To Fall Asleep At The Wheel To, 2022, Dear Life Records
38:34 2:11 Thomas Ragsdale & Richard Arnold – The View
Chasing Waves, 2022, Frosti
39:24 3:50 David Cordero & Kenji Kihara – Grazalema
Komorebi, 2022, Home Normal
42:27 2:14 Abul Mogard – The Rain Has Gone
For Ukraine Vol. 3, 2022, Headphone Commute
44:06 3:43 Robyn Miller – Gateroom
Riven – The Soundtrack, 1998, Virgin
47:34 2:12 From The Mouth Of The Sun – Paint & Stories
A Broken House, 2021, Dronarivm
49:01 4:23 Olga Wojciechowska – Recreating Worlds
For Ukraine Vol. 3, 2022, Headphone Commute
52:50 3:13 Biosphere – Aura In The Kitchen With The Candlesticks
Departed Glories, 2016, Smalltown Supersound
55:35 1:46 Jolanda Moletta – Spell II: Daydream And Nightbloom
Nine Spells, 2022, Ambientologist
56:32 1:48 Budhaditya Chattopadhay – Dhvani
Anthology Of Exploratory Music From India, 2021, Unexplained Sounds Group
57:01 6:29 Cell – Geiger
Onwards System, 2022, Ultimae Records
1:02:46 1:33 Clarice Jensen – Fear
Esthesis, 2022, FatCat Records
1:03:19 4:06 Erik Wøllo – Peace Bells
Sojourns, 2022, Projekt
1:06:30 4:07 Tarotplane – Auximenes
Aeonium, 2022, Constellation Tatsu
1:09:30 2:39 Norman W. Long – Return & Recovery
Return & Recovery, 2022, Line
1:10:51 3:08 Marine Eyes & Antarctic Wastelands – Enshrouded
Sustain Series, Vol. 3, 2022, Ambientologist
1:13:54 1:34 Ryoji Ikeda – Data.Tron (2007-14)
Music For Installations Vol. 1, 2021, Codex Edition
1:14:37 2:07 Masayoshi Fujita – Pons
Bird Ambience, 2021, Erased Tapes
1:16:39 3:32 Tetsuroh Konishi – Kevaan Aania
Scenes, 2021, Off-Recordlabel
1:19:38 3:30 Madeleine Cocolas – Presence
Spectral, 2022, Room40
1:22:17 1:49 Pinkcourtesyphone – Comfortable Predictability
All Intensive Purposes, 2022, Room40
1:23:51 4:10 Clarice Jensen – Love
Esthesis, 2022, FatCat Records
1:26:16 3:47 Radboud Mens – Modular
Movement, 2022, ERS
1:29:16 2:08 Arve Henriksen – The Farmers Of Sonic Alchemy
Murimorphosis, 2021, Arve Music
1:31:18 2:10 Daigo Hanada – Kage
Satori, 2022, Moderna Records
1:33:04 3:21 Ivan Cebrian – Snow In Silence
Inside/Outside, 2022, Oigovisiones
1:35:53 3:34 Robert Rich & Luca Formentini – First Day
For Sundays When It Rains, 2022, Soundscape Productions
1:39:20 1:48 Sofie Birch & Antonina Nowacka – Outro
Languoria, 2022, Unsound / Mondoj
1:41:03 1:50 Sven Laux & Fione – Stay
Tomorrow Everything Could Be Different, 2022, Whitelabrecs
1:42:07 4:16 Loscil – Dub For Cascadia
Endless Falls, 2010, Kranky
1:45:50 2:22 Powlos & Holt – Our Shimmering Breath
Sustain Series, Vol. 3, 2022, Ambientologis
1:47:48 3:33 Anne Chris Bakker – Johan (In Memoriam)
A Sketch In Leaving, 2022, Whitelabrecs
1:50:45 2:34 Glåsbird – Sirsa
Himalaya, 2022, Whitelabrecs
1:53:15 1:04 Trio Ramberget – D Minor Postlude
24 Ways Vol. 1, 2022, Piano And Coffee Records
1:54:11 2:08 Galya Bisengalieva – The Crash
Hold Your Breath: The Ice Dive OST, 2022, One Little Independent Records
1:55:48 4:11 Madeleine Cocolas – Enfold
Spectral, 2022, Room40
Download Cloudwatching now 289Mb (120 min.)
[Alternative download from Archive.org (check here for lossless downloads)]
[Surround-version (DTS.wav/WMA 5.1) here]
OR: Listen on Mixcloud, Spotify or iTunes: