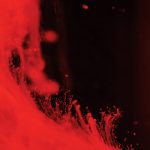 The title track of this album delivers exactly what the title suggests. It is created from amplified sounds of obscure microscopic organisms. It would be interesting to know more about this process, but unfortunately, no further details are given.
As I'd imagine, the bacteria move (dance) at high speed and with tiny moves, but the sum of a lot of fast-moving details nevertheless leads to an immersive experience, which is best experienced on a higher volume.
The second track uses different kinds of (tiny animal) sounds. Σάος (Sáos) refers to Mount Samos in Samothrace, Greece. The field recordings from that area are used to create 'a steady build of dynamics to create suspense navigating an unfamiliar landscape'.

Fani Konstantinidou is a Greek performer/composer currently living and working in Amsterdam. These two tracks were recorded at a 2016 live performance at the Royal Conservatoire in The Hague. They are now released on Decaying Spheres and available on cassette and as a download.
As an aside: Decaying Spheres' motto is 'interesting isn't ignorable' – an interesting comment on the well-known Brian Eno statement about ambient music ('music that is as ignorable as it is interesting'). It's true: this album is hardly ignorable and very interesting.
---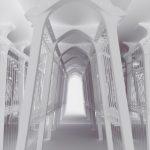 Among the many drone albums released, this one by Mihalis Shammas stands out because of its remarkable sound. A sound that comes from the Lyraei: an electromagnetic string instrument designed by Shammas himself.

'It is a hybrid instrument, merging the worlds of modular electronics and chordophones. Its brain generates magnetic pulses that excite the strings, setting them into continuous oscillations. Their motions, amplified by a set of handmade pickups, is the resulting sound. […] The conflicts between its electronic and mechanical condition give it its signature timbre.'

Mihalis Shammas is a designer and sound artist from Cyprus, 'driven by an urge to create narrative objects and tools for musical expression. He explores intricacies in motion and sound by animating simple materials, manifesting tensions between the mechanical and the chaotic.'
The hour-long Cathedral is divided into five separate tracks, but the titles indicate that it can be best enjoyed in one single session: Ascending – Expanding – Stasis – Immanence – Descent.
For focused listening, Shammas invites you to 'turn off your phones and set aside the screens'.