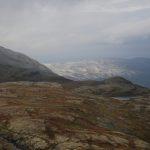 A Sketch In Leaving is Anne Chris Bakker's fifth solo release, not counting his collaborations with Andrew Heath (such as the one mentioned below), and his contributions on various Kleefstra brothers projects.
Previous releases appeared on Dronarivm, Unknown Tone Records, White Paddy Mountain and Somehow Recordings, but this time Whitelabrecs has the honor to release the album.
Bakker (not to be confused with the violinist Anne Bakker) has developed a personal style, 'somewhere between electroacoustic, experimental, ambient and minimal music' which makes his music immediately recognizable. The guitar is his main instrument, but the sound is completed with many details such as field recordings, synths and the occasional deterioration. On A Sketch In Leaving, a piano is added to his instruments, which broadened his sonic explorations.

The album is inspired by the long walks in the Norwegian mountains, and the fact that Anne Chris is going to live in Scandinavia for a year: 'the immense landscape, battered and bruised by the elements represents change and loss, as well as the emergence of freshly formed details'.
The track titles refer to places and people from the Scandinavian landscape – also including the fascinating Dutch word Boskronkelsteeltjes (which seems to translate to Forest Curl Crops, but that doesn't sound half as beautiful as the Dutch original).
---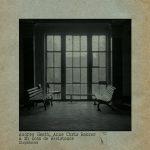 ANNE CHRIS BAKKER, ANDREW HEATH & MI COSA DE RESISTANCE – DISPATCHING
Anne Chris Bakker and Andrew Heath have slowly become a steady duo: Dispatching is their fourth collaboration album, following up Lichtzin, A Gift For The Ephemerist and How To Breathe Like A Stone.
On Dispatching the duo is expanded to a trio with Mi Cosa De Resistance (Fernando Perales) adding his electronics and field recordings to Bakker's guitar (and treatments) and the piano (as well as field recordings and electronics) of Andrew Heath.

The three artists never met each other in the same studio: they worked together across the geographical distances between them (United Kingdom, Netherlands, Argentina). But the music feels as if it was performed while the musicians were looking out at the same panoramic landscape.

The music itself is closely related to nature: you simply can't associate this quiet, peaceful music with a hectic city or industrial environment!
With incredible detail, these sonic textures 'flow and meander as a river does, sometimes pausing and sometimes pushing on but always with a sublime sense that carries the listener on a dreamlike journey'.