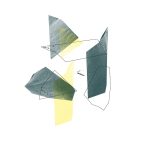 HEATHER WOODS BRODERICK – DOMES
Her three previous (vocal) releases were often categorized as Folk, Shoegaze, or Indie Rock, but the latest release from Heather Woods Broderick (yes, sister of Peter) is a fully instrumental album.

Like many others, Heather needed "to find moments of respite in response to the chaotic and turbulent times we all faced". For that, the multi-instrumentalist turned to the cello, even if that was not her primary instrument.
Starting from a single melody, then adding new elements to the loop "until the sounds filled her up" enabled her "to express emotions outside the world of words of lyrics".
Adding elements incrementally to the base loops has a meditative effect, but at the same time the pieces slowly become filled with sound, adding more and more pressure, until they start to feel like "dense masses – strong grounding sounds that can hold weight or be used to disperse weight – in an emotional sense".
This is why the album is called Domes: referring to triangles – "the strongest shapes in the physical world", offering the listener "a solid basis to find rest and calmness".
Domes is released on the Dauw label on vinyl as well as a download, with the label's distinctive artwork by Femke Strijbol.
---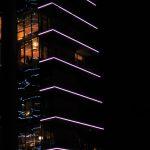 Andrew Tasselmyer already has quite an extensive discography, with solo albums released on labels like Laaps, Eilean Recs, Constellation Tatsu, Home Normal, etcetera – but also as a member of Hotel Neon, Gray Acres, Mordançage as well as various collaborative projects.
Music For Nonexistent Films, released on Somewherecold Records this time, consists of largely improvised material, inspired by photographs of Philadelphia (where he currently lives). As far as I know, the photos are not included in the release (apart from the cover image of course), so it's up to you to relate the music to images of your own surroundings. This should not be too hard because, as the album title already suggests, this is very 'visual' music.
Songs For Nonexistent Films will be released on June 17, but can already be pre-ordered on Bandcamp.
It may be worth noting that Tasselmyer also recently released an album in the Laaps series called Limits. So there may also be a bit of catching up to do if you missed that one.