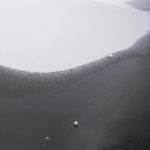 TAPANI RINNE & JUHA MÄKI-PATOLA– OPEN   
If there is a thing called ambient jazz then the music of Tapani Rinne definitely is one of the first names to mention. And this album, combining his soothing saxophone and clarinet playing with the synths, piano, organ, and guitar performed by Juha Mäki-Patola once again demonstrates why.

Both artists were already active for decades in the Finnish music community before they met in February 2021. Tapani Rinne's already boasts an impressive discography (some of which were previously mentioned here). Compared to this, the discography of Juha Mäki-Patola may seem rather modest, but don't underestimate this based on quantity alone.
After deciding to work together, Open was recorded in three months, working remotely from their home studios, covering 'cerebral jazz, glacial ambient, and cinematic neo-classical styles'.
'Ambient jazz' is often connected to the darker sound of acts like Bohren & Der Club Of Gore, The Dale Cooper Quartet & Dictaphones, and the 'doom-jazz' of Jason Köhnen's Kilimanjaro DarkJazz Ensemble or Mount Fuji's Doomjazz Corporation, but Rinne and Mäki-Patola claim their own different space which is much more comfortable to wallow yourself in.
The soft and warm sound of Rinne's saxophone embedded in Mäki-Patola's soundscape has more in common with the introspective Nordic sound we know from many ECM-releases. Its 'expansive and contemplative aesthetic [is] informed by Finland's icy climate and long winters, as well as the atmospheric nature of the Nordic experimental jazz scene.'
---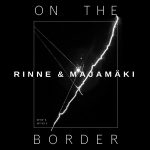 TAPANI RINNE & TEHO MAJAMÄKI – ON THE BORDER
Only a few months after Open, there's another Tapani Rinne collaboration: this time with percussionist Teho Majamäki. This is not the first time they worked together: they did so on Inside the Temple (2011) and Under The Ground (2015) – both the album titles referring to the locations where they recorded: temples and caves in India, and railway tunnels of Helsinki's metropolitan area.
On On The Border, the tracks were recorded "in controlled studio conditions, where different spaces can be created electronically." The name of the album refers to the place where the music was recorded: Kitee, Eastern Finland, near the Russian border.
The music is partly composed, partly improvised:
"Instead of listening to the sound of the space itself, the musicians tuned in to listen to the vibration of the metal and wooden instruments. We focused on sensing the mutual resonance of the instruments and the sensitivity of the improvisation.".
Once again, the music is unhurried, extremely relaxed, almost meditative. There's no sense of doom (so no 'dark-jazz'), but mostly a respectful and appreciative awareness of the surroundings.
Once again, an album to play on repeat.
---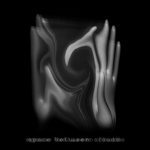 Space Between Clouds same-titled album is a perfect companion to the above-mentioned Tapani Rinne albums. Not so much in terms of instrumentation, perhaps, but definitely in the atmosphere that the music evokes, in its patience and subtlety.

At the basis of these tracks was "a series of drones designed to sneak by consciousness and lay down in the shadows behind clouds". But the drones grew into luscious tracks that "can shine either in the background or foreground."
'Analogue and FM synthesizer sequences pulse at 30 BPM – "roughly half the speed of the human resting heart rate" – beneath saxophone, flugelhorn, clarinet, glockenspiel, all interlocking with textural, environmental sounds.'
Space Between Clouds is the debut album as well as the alias of David Ralicke from Los Angeles. And it may very well be the first time exploring music like this. But from his bio we learn that this 'debut album' has emerged from a wealth of musical experience.
Apart from the many groups he participated in, there's also an incredible list of artists that Ralicke has played (saxophone and trombone) with. I'm just gonna mention some of them to impress: Beck, Devendra Barnhart, Cat Power, Paul McCartney, John Cale, Charlotte Gainsbourg, Van Dyke Parks…
I guess none of this music resembled the work on Space Between Clouds, but it shows that Ralicke is not your average debutant. No further introduction is needed I guess.
And this experience can clearly be heard in this remarkable collection of "slowmotion explorations of spiraling dream-tones."