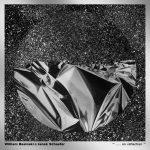 WILLIAM BASINSKI & JANEK SCHAEFER – … on reflection
I wouldn't say they were opposites, but musically William Basinski and Janek Schaefer come from a somewhat different directions. Basinski is best known for his long sustained loop-based tacks that often investigate the process of decay. Schaefer has created many conceptual sound art projects and performances: way back in 1995 he presented Recorded Delivery: a recording of the fragmented noises of a sound-activated dictaphone traveling overnight through the Post Office. Both are 'sonic sculptors' that welcome the role of chance in ther compositional processes. In working together their individual approach complements each other very well, as can be heard on their "… on reflection".
This album took no less than eight years to create: sending files and ideas between Los Angeles and London between 2014 and 2022. The first thing noticed is the bright sounding piano, 'a delicate piano passage from their collective archive' that they 'weave and reweave in numerous ways, forging an iridescent flurry of flickering melodies'.
The album is dedicated to Harold Budd, but there are also striking similarities to some of the (piano-centered) works of Akira Rabelais.
The piano theme slowly drifts from foreground to background (and back again), fragments are looped or highlighted, or temporarily disappear in a cloud of static and soft distortion (… On Reflection (Three)).
The atmosphere is subtly enhanced with the occasional sounds of various birds 'heard from late-night windows on tour, ricocheting off mirrored facades, reflecting on themselves as they continually reshape their own environments with song'.
'… on reflection' is divided into five chapters, but it can best be enjoyed in one uninterrupted session. It has the power to generate the languid sensation of having a nap on a hot summer afternoon.

The album is currently available on CD and as a digital download. Vinyl versions (black or metallic silver-colored vinyl) can be pre-ordered but will be shipped later this year around October 21.
---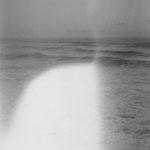 Another remarkable collaboration called Raum: the duo formed by Liz Harris (Grouper) and Jeffrey Cantu-Ledesma. Daughter is their second album, following up Event Of Your Leaving from 2013.
The album opens with a bright piano theme, but it only takes a few seconds until that is rudely distorted and overtaken by an abstract soundscape featuring Liz' floating vocals. The piano returns near the end of the track but once again is completely run over by the noise. The track ends abruptly, but most of the other tracks blend seamlessly into the next, so the liner notes advise listening to the album as one long gapless piece.
The first six tracks of this hour-long album are each around 5-7 minutes long. The different atmospheres of each track are connected through their fuzzy sound – as if the music comes to you from within a dense fog. But at the same time it avoids the familiar clicks and tricks of lo-fi ambient and creates an atmosphere of its own.
There's a dark background to the making of this album: 'it captures a strange time spent in the desert, later added to, edited and finally made sense of after we lost the friend we'd been there with. There are fragments of beginnings and a deep sense of loss.'
With 20 minutes and 46 seconds, the closing track Passage is much longer than its predecessors, and also quite different. More than 20 minutes of soft piano loops layered in effects and pads – a track that induces a peaceful calm and closes an album full of surprises.