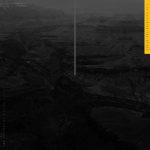 More than seven years have gone by since the recommendation of Dusk. After that release, there was no sign of any new music from Brendan 'Man Watching The Stars' Paxton, from Cincinatti, Ohio. But some 10 months ago his YouTube channel came to life, presenting some captivating violin performances. And now there is The Sextant Of A Blind Seafarer – a collection to soothe the absence of the past seven years.
It's a collection of live, "spur-of-the-moment" recordings from 2017-2021. They are all improvised on the violin, adding layers and layers of loops and effects to full meditational effect. Each of the track titles has an added code, referring to a planet, star, nebula, galaxy, or black hole.
"This album logs a voyage through prayers, meditations, lashings-out, laments, and praise, sharing moments of bare expression, live composition, and spiritual reflection through sound."
Twenty tracks of various lengths, together no less than two-and-a-half hours of music. This may be a bit too much of a good thing when consuming it in one single session, so I strongly advise checking this out in shorter listening sessions for maximum effect.
You may not expect this due to the length, but Sextant Of A Blind Seafarer is not only available as a digital download, but also in a 2CD edition, as well as a limited deluxe edition. The deluxe edition contains 3 heavyweight prints and a bottle of "single-run fragrance made from Jakarta agarwood in 2018".
I don't know, but I assume that combining this perfume with listening to these hypnotizing sessions will probably be… eh… intoxicating.
---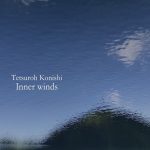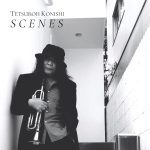 Trumpet player Tetsuroh Konishi may not be a familiar name in the west (yet), but his work gained respect in his home country Japan. His discography shows quite a few releases, of which I recently heard Inner Winds (2020) and Scenes (2021), both released on the Off-Record label from Belgium. Both of them made a deep impression and made me wonder why I (we) haven't heard more from him before.
Konishi music on these releases can be labeled as ambient jazz. Konishi uses "his unique way of bleeding in the horn and using some electronics on the top" – this breathing technique is called tokusyu/souhou – "a way of not using the mouthpiece trying to imitate bird songs."
I always try to avoid making artist comparisons, but as an exception: Konishi's music will definitely appeal to listeners that also like Nils Petter Molvaer, Arve Henriksen, and, to a somewhat lesser extent, Jon Hassell.
Inner Winds is dedicated to some of the most famous mountain peaks. Only the closing track Unkai is not named after a mountain but is "a sea of clouds".
"I was following the call of nature more than the past history about those locations and tried to be as spontaneous with music as I could be. The final action was trying to be as pure as possible when recording those tracks."
Compared to Inner Winds, Scenes has a more cinematic, and slightly less 'ambient' atmosphere. As the title indicates, this music was written as an imaginary film score. "I originally became a composer because I wanted to do music for theater and video but I forgot about it until the pandemic took away my performance opportunities. I've made music for radio and television before but I've never tried my hand at film music."
The music was inspired by Mika Kaurismäki's films and the landscapes of Finland and Lapland, but in the end this music was not used in a film. Yet.