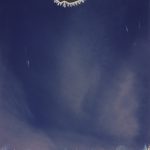 If you want to support the Ukrainian people in this humanitarian crisis there are many ways to do so. You can directly donate to one of the support organizations of your choice, or you can choose to support one of the many different charity funding initiatives that are started.
There are many to choose from, but the Places for Peace compilation from the Home Normal label will definitely be of special interest to Ambientblog readers (and ambient music lovers in general).

Places of Peace is offered as a Name Your Price download so you can decide what you can afford to donate yourself. All profits from this release will be donated to UNICEF's 'Donate to Protect Children in Ukraine'.
Places for Peace offers no less than 48 tracks with no less than 4 1/2 playing time. There's no use in mentioning the contributing artists here: there are simply too many to mention. No doubt regular readers will recognize most – if not all – of their names.
I am not 100% sure, and it is not specifically mentioned, but if my ears don't deceive me these tracks are all previously unreleased.
Over the years, the Home Normal label, curated by Ian Hawgood, has become one of the most important artistic hubs of the ambient music community. Continuously presenting music that is "organic, soulful and minimal in spirit", has built an extensive network of artists, many of which are represented in this massive collection.

For a 48-track collection by different artists, which was (assumingly) curated in a very short time, the collection is remarkably consistent in style and atmosphere – with enough variation to retain the attention for the full 4.5-hour span! As a collection itself, it is a perfect overview of the current state of contemporary ambient music.

That should be enough reason to recommend this collection itself. But now, it's also an opportunity to support Ukrainian children in this devastating time, while receiving this massive compilation in return.
That should be a no-brainer for everyone even remotely interested in ambient music.
Don't hesitate, donate!