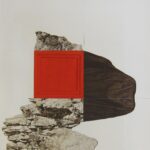 SNORRI HALLGRÍMSSON – LANDBROT (I+II)   
One year ago, in November 2020, Snorri Hallgrímsson released the Landbrot I EP. "A very touching (mini-)album, perhaps with only one disadvantage: it is wáy too short", I concluded in the recommendation then.

Patience is now rewarded with the release of Landbrot II, a new EP with another 5 tracks (17 minutes) of subtle piano-string compositions performed by the same ensemble: Snorri Hallgrímsson (piano), Björk Óskarsdóttir (violin), Karl James Pestka (viola) and Unnur Jónsdóttir (cello).
Judged by the atmosphere of the compositions and the sound, I assume these pieces were recorded in the same sessions as Landbrot I: both sets were recorded in the same studio and mastered by the same Martyn Heyne. So when played together it's clear that Landbrot I and II are in fact one album with ten perfectly consistent compositions for piano and strings.

For those that already enjoyed Landbrot I, Landbrot II is a perfect addition. But apart from the twe EP's, both sets are now also available as one single album version. Called Landbrot, obviously. The Ep-versions are download only, the full version is also available as a vinyl release.
---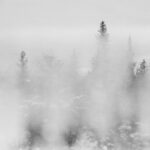 While talking about short EP releases: Isabel Pine's Transience also presents five tracks just short of 14 minutes. so maybe there's a new trend in ultra-short releases coming up?

There are more similarities between Transience and Snorri Hallgrímson's Landbrot EP's: especially in the atmosphere that perfectly seems to help you keep warm in the cold winter season.
I'm afraid that I cannot tell anything more about the background of Isabel Pine than what can be found on her Bandcamp page: that this is her first EP-release, only preceded by a single track called In Whispers. Spotify adds that she comes from Chicago, and that she is classically trained (although she seemed to have dropped out of music school). Her classical training can be easily heard in the way she plays the viola, cello, and violin, along with found sounds (from British Columbia) and electronics.
I can simply add that her music on Transience is worth checking out, definitely. Even if it is so short that it'll probably leave you longing for more.