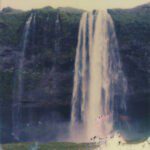 IAN HAWGOOD, STIJN HÜWELS, JAMES MURRAY – DAY FALLS
Day Falls is "an album of low-light guitar and synth works processed with tape delays on decayed and worn reels", created by a trio of familiar artists that can be regularly found on the Home Normal label: Ian Hawgood (of course, since he's the label owner and curator), Stijn Hüwels, and James Murray.
They demonstrate the kind of sound that has become a sort of Home Normal trademark: sound with a Lo-Fi touch and subtle hints of decay from the use of the old reel-to-reel recorders and worn tapes. It is never over-produced yet carefully constructed, and as a result, it sounds very 'personal'.

These four tracks (39'27" playing time) are carefully designed soundscapes fittingly described by their titles: Light Falters, Slow Fades, Dusk Filters and Day Falls.
---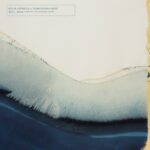 Stijn Hüwels is also featured on this (11th) edition in the Laaps series, where every release starts with the end of the previous one – a subtle detail which I never checked by the way.
This release is a collaboration with Tomoyoshi Date. Apart from the solo works he may also be known for his work in Opitope (with Chihei Hatakeyama) and Illuha (with Corey Fuller).
This is the second time Date and Hüwels work together (Hochu-Ekki Tou was released on Home Normal in 2019).
A Distant Fire, A Distant Cloud is the translation of the Japanese title 遠き火、遠き雲 (Tōki Hi, Tōki Kumo). Japan, and more specifically the Japanese way of celebrating nature, is never far away in these tracks created with guitar, pedals (Hüwels) and piano, harmonium, synths and field recordings (Date). The closing title track features a poem spoken by Tadahito Ichinoseki (in Japanese, obviously).
Laaps releases are always linked to a season. For this album that could not have been any other season than Spring. With titles like A Big Tree With A Bump That Is Older Than Me and Particles Of Lights Flashing In The Morning Sky, this music has the effect of a refreshing early morning walk, right before the rest of the world will wake up.