Curating the Slaapwel Records (sleep well) label obviously results in healthy sleep that gives Stijn Hüwels a lot of energy to work on his own music. But it probably also helped building a network of like-minded musicians and friends.
The result: three different albums almost released at the same time, on different labels – each celebrating fruitful collaborations.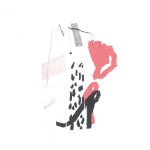 Tomodachi ('Friend(s)') is released under his own name, but it is not simply a solo-project, even though all music is created by Hüwels himself. The base materials for these pieces come from different artist, people he respects and whose work he likes. People like Heine Christensen (Ghost and Tape), Ralph Steinbrüchel, Sylvain Chauveau, Yves De Mey, Christoph Bergh, Dirk Serries, and even some more.

"I asked them to send me 'something', a sample, melody or fieldrecording I could use to create a new piece of music."

The different source materials he received forced him to work in a somewhat different way than he usually did to, "without abandoning my main gear (guitar and laptop)".

The result is an inspired album that consistently presents the music of Stijn Hüwels himself, but also reveals the spirit of the contributing artist in each track.

Tomodachi is released on the Dauw cassette label, 'the boutique label from Ghent', which means handmade limited editions – in this case an edition of 89, which was already sold out at the release date (march 22). But there's still the digital edition of course.
---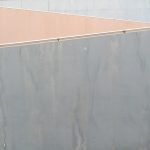 STIJN HÜWELS & TOMOYOSHI DATE – HOCHU-EKKI-TOU
Home Normal is the label that almost simultaneously releases this collaboration album with
Tomoyoshi Date – a Tokyo-based artist that may be known for his collaborations as Opitope (with Chihei Hatakeyama), Illuha (with Corey Fuller) and Melodía (with Federico Durand).
I can't tell if there's a meaning to the title of this album, or if it just the combination of the titles of the three pieces it presents. Three long-form compositions (18, 23 and 11 minutes) that "transform within itself, the various melodies and the sources of these melodies fluctuating in subtle and gentle ways."
Label owner Ian Hawgood describes the music as "the patter of snowflakes that dust the floor outside, quietly turning to water as the air warms by mid-morning."
Which is a beautiful description of this calm and peaceful "organic minimalism".
---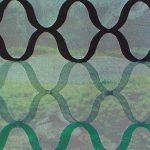 STIJN HÜWELS & NORIHITO SUDA – SANSUI
And to close this trilogy there's Sansui ('Watering') from Stijn Hüwels and Norihito Suda – also released on Home Normal.
It is no coincidence that Sansui and Hochu-Ekki-Tou were both recorded with Japanese artists and released on this label that is partly based in Japan: the music for both albums was recorded when Hüwels toured Japan in 2015.
Sansui has the same slowly developing peacefulness, but a more 'dusty' sound due to the fact that it was deliberately recorded "on some used 1/4" tape."
Stijn's "slowly enveloping and grainy guitar echoes" are embedded in field recordings, such as the sounds of a night in the suburbs of Kyoto:
"the cicada's on the trees, people enjoying their time in the muffled distance, and all the while those guitar echoes fading out to sleep."
Whenever you listen to this album, it will transport you into a lovely daydream.