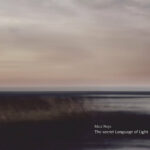 The Secret Language of Light is a 54-minute sound collage that was originally created for short films of Janet Lees, "based on manipulated pictures."
It is not a single soundtrack for a 53-minute movie, but "a compilation of combined stories that were created in response to a series of Lees' manipulated stills".
The beauty of this audio-visual collaboration can of course best be demonstrated by showing one of the 'manipulated still'-videos:

Even without these captivating images, the music tells its story in a powerful way.
Neys – Belgian composer who is also known as No One – uses field recordings, different instruments, and a lot of found sounds to create the soundtracks. Merged together as one, they add up to "a great journey through foggy mountains and hazy shores under clear pastel skies, calm and cirrus".
The physical edition of this album, with a beautiful 3-folder digipack – is available from Frozen Light Label. The digital version can be found on Marc Neys' own Bandcamp page.
---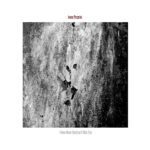 Ivan Pecorini graduated in Electronic Music Composition in Rome in 2018, and holds a master's degree in the same field from the University of West London, where he now resides.
I Have Never Realized It Was You is his first release on the Elan Vital label. Previously, Mahorka released Barons Court in late 2020, and apart from these, his Bandcamp page also presents a self-released album from 2020 called Nix.
Composed as a soundtrack for Sexy Movers, a performance for two dancers by Aurelio Di Virgilo, I Have Never Realized It Was You "aims to explore the interaction between two humans in the instant they come into contact with each other".

"A gesture that is generally immediate seems to be stretched in time, showing every shade with all its micro-variations. What happens when two humans get close to each other? What happens when we make eye contact with someone? And how do we change after that?"
Using concrete materials, synthesis, acoustic instruments and (stretched) voices, Pecorini creates a 40-minute soundscape depicting two people interacting in slow motion, sometimes imagining their interactions like if they were visible electric currents.