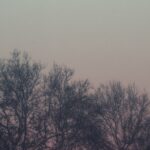 Like many collaborative projects in the last year, Don't Worry, I'm With You was created by remotely exchanging sound material and working from there. James Osland and Finn Kelvin were no strangers: they worked together previously in The Elm Collective, released an album Colourless in 2017 on Kate Carr's label Flaming Pines, as well as a short LP on Audio Gourmet in that same year.
The nine tracks combine the sounds created by Osland and the guitar (+ effect pedals) played by Kelvin. There are some different, sometimes conflicting, undertones in this album, which reflect on the passing of James's grandfather after suffering from dementia for a long time.
"Don't Worry, I'm With You explores the dark and unsettling place the mind must go when suffering from the disease, unable to communicate with those who love you".
But: "The odd and unlikely emotions of sadness and relief meld together, as clearly recollected memories are interspersed with a vacant hum of melancholy and occasional paths of darkness".

It may be a strange thing to say knowing the sad background, but it is this combination of emotions that makes this album a pleasurable listen – as already suggested in the album title.
---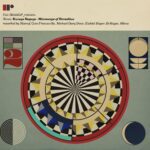 Three full years after the release of Kazuya Nagaya's original Microscope Of Heraclitus (2018) the album is brought back to the attention through reworks of the six tracks.
None other than Murcof opens the album with his reworked version of the title track. It opens with Nagaya's distinctive sounds of bells attracting your attention. These (temple?) bells feel like they're aligning your brainwaves to prepare them for what's to come.
The original album is described as 'deep meditative music', which may suggest the music is rooted in the new age category. Which may be so but in Nagaya's case there is no reason nót to listen to it – simply because it is very beautiful.
Due to their nature, the re-works are somewhat more adventurous (and thus perhaps less 'meditative'). Apart from said Murcof, who is the main crowd puller here, the other tracks are reworked by Coco Francavilla, Michael Gary Dean, Ezekiel Hagar, Eviltapes and Mirus. All of them are not familiar names (for me), but their vision of Nagaya's work is definitely worth checking.
If you're not familiar with the original 2018 album, it's definitely worth checking out too, and compare the original tracks to their reworks.