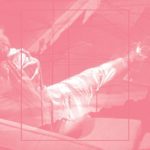 Pinkcourtesyphone is Richard Chartier's alias when releasing music that is somewhat more melancholic, emotional, sometimes even more tongue-in-cheek than the releases under his own name. After all, the intention is "grinding nostalgia to fairy dust"…
But do not make the mistake thinking that these releases are to be taken less seriously!
Pinkcourtesyphone is "a more emotional, dare one say musical side of his work. It is dark but not arch, with a slight hint of humor. Pinkcourtesyphone is amorphous, changing, and slipping in and out of consciousness. It operates like a syrup-y dream and strives to be both elegant and detached."
Leaving Everything To Be Desired is the follow-up to the previous collection of "negative mood music" – referring to his 2017 album Indelicate Slices – but it could as easily refer to the complete previous 11(+) album discography.

I must add that I am not sure about the 'negative mood' connotation. I do not necessarily experience this music as a 'negative mood' – even though there is definitely a dark, mysterious and ghostly presence in the music.

"Sometimes charmingly flamboyant, sometimes darkly wistful, sometimes deadeningly soothing, sometimes abrasively tender, but but always engaging and ultimately engulfing of us."

Music like the suspenseful movie you loved to watch but still leaves you feeling slightly uncomfortable afterwards when you find yourself alone in your dark house.
--- RICHARD CHARTIER – CONTINUE
Here's a chance to compare Richard Chartier's output under his own name against that as Pinkcourtesyphone: Continue, released by Moving Furniture Records, features "four minimalist compositions with a focus on deep drones and apparent silences".

Chartier wonders when a work is really finished. "Is it done, is it complete? Why can I not allow this to be finished? What determines the completion of sound, of composition, of experience"? This must be the eternal curse of the artist that probably also haunted Beethoven, Rembrandt and perhaps even Michelangelo.
Even when the music is finally released, it doesn't feel like completed. It's not even 'complete' when you listen to it, because every new listen may be a different experience.
"Even the forms of recorded aural experience continue to shift as the listener re-interprets and re-contextualizes them in their environments and playback."
Within this context, Chartier presents these four "variations on the idea of completion".
Which, I may add, sound rather 'complete' to me, so I'm glad they are released.
Sidenote: some of the 'apparent silences' may be dependent on your capability of hearing high frequencies, which (unfortunately) will diminish by age, if not from excessive exposure to sound. Headphone listening definitely recommended.