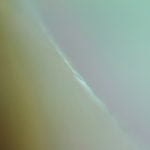 MIGUEL ISAZA – MACONDO  
Macondo is a town described in Gabriel Garciá Marquez's 100 Years Of Solitude – a town 'hard to declare as fully real or fictional; an archetype of the magical-real; an interstitial town, where things are, but are not.'
This description is also fitting for Miguel Isaza's music on this album: it is, and it is not (a fitting description of 'ambient music' by the way), and it is hard to tell if the sources used for this music are real or fictional.
Translated, the track titles emphasize this: '(1) The world was so recent (2) that many things lacked names, (3) and in order to indicate them it was necessary to point…'
The tracks for Macondo were composed in Medellin, Colombia using materials gathered since 2012. The compositions were used in various audio-visual installations and performances, but their magical-realistic quality is perfectly captured on this (digital only) release.
---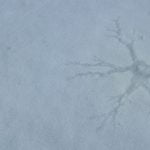 FRANCE JOBIN – SCENES  
Also on Line, also ethereal and elusive (and also digital-only) is France Jobin's Scenes, her third album for the label: four Scènes created on the Serge and Buchla 200 modular synths as well as the Nord modular, with additional processed guitar played by Marco de Leonibus). 
France Jobin is a 'sound-sculpturist' from Montreal, Canada, with a 'minimalist approach to complex sound environments where analog and digital intersect.'
Apart from her releases on Line, she has previously released music on labels like Staalplaat, Room40, Baskaru etc. and is internationally renowned for her installations and screenings at museums and festivals.
Immersive (drone) pieces, each with relatively short length (varying from 7 to 15 minutes, 42 minutes in total), wrapping around you like a warm blanket.
--- "Pinkcourtesyphone is a more emotional, dare one say musical side of [Richard Chartier's] work. Dark but not arch, with a slight hint of humor. Amorphous, changing, and slipping in and out of consciousness"
Indelicate Slices is full of dark looped tracks that could've been written for horror movie soundtracks. "A creak, a glance. Nothing is for certain anymore. Seven excellent examples of negative mood music."
That may suggest this could be violent music, but the opposite is true: the most frightening horror is not gory slashers but subtle suspense. And Richard Chartier is very good at subtle suspense. While at the same time, the 'PCP' albums also have a touch of relativating humor, which enhances the musical impact.
Indelicate Slices presents seven tracks (70 minutes) of varied length, ranging from 2 minute sketches (Problematic Interior (Den)) to a 24 minute atmospheric Minimumluxuryoverdose filled with static crackle, ominous metallic dragging sounds and an inescapable deep rumble.