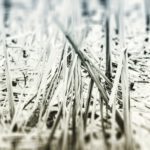 I assume (/hope) that Scanner (Robin Rimbaud) needs no further introduction. Since the early 90s, when he created soundscapes created with fragments from police scanners (hence the alias) until now he has released over 75 albums exploring almost every corner of (electronic) experimental music.
When the lockdown hit and all live performances were canceled, Scanner used every tool he had to organize a live show broadcast.
"Rather than sit back and worry, I felt it was important to immediately embrace the tools at hand, and use the power of technology to respond positively, and offer some light to others."
This broadcast triggered DiN label boss Ian Boddy to invite him to produce an album for his label. Using the same setup as for his live broadcast, Rimbaud recorded the nine tracks for this album. The result is an album that sounds as spontaneous as a live performance but at the same time there's "always a sense of details in the sonic backdrop which is just out of reach."

There is a strong sense of urgency in most of the tracks, but there is also room for quiet contemplation. There are incidental 'scanned' vocal samples, and there's a haunting spoken-word text in Stranice.
Overall, the album is an exploration of the strange time we're in. A time that is globally worrisome, but also may offer new insights that may turn out to be good once the 'bad' is gone.
"Curiously, in many ways, if it were not for this extreme international lockdown, this album would never have existed in this form."

---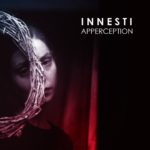 The first thing you'll notice when playing the opening track Any History Before Our Own is the ethereal quietude. An atmosphere that Innesti (R. Chris Fraley from Illinois) manages to maintain throughout the whole 2-hour album.
Music "created with field recordings, organic synthesis, fading light and experiments in dreaming".
The first disc (the physical edition is a double-CD) contains "a mixture of dark and meditative ambient tracks", each relatively short (somewhere between 5 and 10 minutes). The second disc is (slightly) different in nature, presenting four long tracks ranging "from ethereal minimalism to deep space ambience."
Apperception is a term used in psychology for 'conscious perception':
"Apperception is how your mind puts new information in context. You get a perception of a chair through your eyes, but apperception is how your mind relates it to chairs you've seen before."
With this music, it is how the listener relates the music to personal occurrences in the past.

Or in Innesti's own words:
"This release focuses on themes that characterize the human experience: The ways in which our histories shape us, the inexplicable sense of connection we can experience to people we have never met, the power of dreams and mythology, and the sense of being lost and misunderstood."

---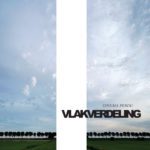 Cinema Perdu is Martijn Pieck from Utrecht, creating "soundtracks without movies" as a solo artist but also a member of the [law rah] collective. In his works, he often explores the sonics of existing landscapes (Amsterdam CS, using sounds of the Amsterdam Central Station is a great example).

Vlakverdeling – a bit hard to translate it seems – refers to the "strict demarcations in the Dutch (Frysian) landscape", (which) resulted in "changing atmospheres influenced by natural phenomena like the weather and light but even so much through human presence."
For this 45-minute work Vlakverdeling I, Pieck used various field recordings to create new sounds, also adding layers of electronics and piano. While most of the individual sounds are made of drones, Vlakverdeling is not a drone-piece. There are many 'jump cuts' from one sample into another, picturing the diversity of landscapes when traveling the province. This composition technique is also reflected in the cover image.
However: it was not Pieck's intention to re-create the landscape he visited, but rather to translate the sounds "into their own abstract form of the landscape."