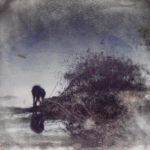 I don't think I reveal anything new when I write that Simon Posford is one of the most prolific music producers from the UK, member of many groups of which Shpongle – his psychedelic ambient project with Raja Ram – may be one of the most exuberant examples, with their all-encompassing blend of eastern ethnic samples and western psychedelic synth dance beats.
Simon Posford may be for Shpongle what Boris Blank was (is) for Yello: the musical genius that is perfectly complementary to his creative partner (Raja Ram in Shpongle, Dieter Meier in Yello).
As prolific as he may be in different contexts, this seems to be his very first solo album. I'm not too sure about this: other solo albums may have been released under one of the many aliases, but this is the first one mentioned under his own personal name.
Created "as an artist in isolation", it clearly shows who is the "master sonic sculptor" behind the Shpongle sound.
"Rather than framing his compositions in restrictively structured arrangements on computer, he mixed loops in real-time to spontaneously sculpt tracks that reflected his in-the-moment perspective of being in lockdown."
Flux & Contemplation starts out as an ambient soundscape album, but once you start there is no turning back. Inevitably the psy-trance beat creeps in: in the fifth track Wish You Weren't Here, to be exact – and building up a climax into The New Normal.

"From the first note the listener is drawn into this gallery of sonic portraits, with ruminating thoughts in the form of riffs that keep cycling back, sometimes the same, sometimes different."

Even when the comparison may not hold up, this album vaguely reminded me of KLF's Chill Out (and yes, I realise that is quite a bold statement): it has some of the same 'ambient feel', while at the same time rejecting the genre's limitations, smuggling in some entirely different genres … only to take you to alternate realities. With or without mushroom consumption!
"Embark on a musical journey that is simultaneously introspective and expressive, revealing the freedom that can be found exploring from exactly where you are."
---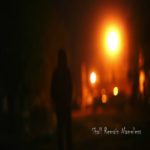 Shall Remain Nameless is the (nameless) debut album of the equally nameless artist (or artists).
The 'debut' statement may not be entirely true because they/he/she also released an album called Untitled III in 2018 which was featured in the No Stars mix, and suggests volume I and II may also exist.
So much for the background information. This means the focus is on the music of this (58-minute) album, which proves to be quite an impressive and somewhat hallucinogenic journey.
The album starts out with some deep ambient tracks, slowly but inescapably taking a somewhat sinister turn in Uneven Terrain, and getting even darker in Coney Island Sideshow with its somewhat nightmarish announcements of a family show you might not want to visit.
The following tracks bring us back into ambient territory but the atmosphere remains ominous and full of dark promises, only loosening up a bit in the sequence of The Lone Guitarist, Secret Liaison and The Fear.

With that the album seems to come to an end but in fact, we're only halfway: 6 minutes into Ground Floor ("doors closing … lift is going down"), and 2 minutes of silence, a heavy dub rhythm bonus track comes as a surprise after all that came before.

It is exactly this uncompromising genre-bending that, together with the flawless sound production, earned this album its comparison to the work of Future Sound Of London, The Orb, Global Communication and not in the least The KLF.
---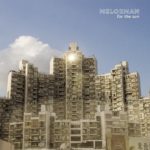 Antonis (C)Hiotakis is a Greek producer that has been producing music for over 20 years, releasing albums (and singles) as Melorman since 2007. His style ranges from ambient electronica to experimental and glitch.

For The Sun, his sixth album under this name, presents six tracks best described as 'mellow chill electronic', so don't expect anything too experimental or glitchy here. This is 'happy' music: dreamy atmospheres and luminous synths.

To be honest: I am not the biggest fan of what usually is called 'chill' or 'chillout music', because it is often too 'loungey' for my taste.
But For The Sun appealed to me upon first listen – maybe because of its carefree summertime mood. Or maybe it's because it can be a nice antidote to the darkness that 2020 brought us so far.

I would never ever book a hotel that looks like the building on the cover (even though I like the architecture), but I would not say no to "sailing on greek islands on a calm afternoon while watching the sun sink into the Aegean sea" with this Melorman album playing in the background.