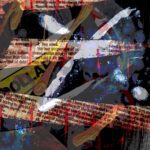 I'm very honoured to present this collaboration mix with Dave Michuda from Low Light Mixes, whose mixes have been a source of inspiration from the very beginning of Ambientblog.net. When we talked (or rather: mailed) about creating a mix together, we decided not to go for a back-to-back exchange, but gave ourselves an objective without knowing where this would lead to:
5 Minutes each turn. Start with a 5minute track, increase the sample count each turn (next turn 2, next turn 3, next turn 4…) until we reach 60 minutes… (last 5 minutes contain 6 samples each turn). See what happens.
Here is the result: a mix that starts with two single tracks but gets more complex, layered and more adventurous with every turn. There are some quite unexpected turns here, so I hope the listener can follow us in this journey.
I'm even móre honoured that this mix is presented on three blogs at the same time: Low Light Mixes, Headphone Commute and Ambientblog. Both Headphone Commute and Low Light Mixes are 'giants' compared to my humble Ambientblog, so I'm really happy this mix may reach a new audience… and hope they enjoy the way it turned out.
Tracklist
(A)
00:00 Yair Elazar Glotman & Mats Erlandsson – Procession
Emanate – 2020
(L)
05:00 William Ryan Fritch – Dream Glitch-Fugue State-Broken Barriers
The Letdown – 2020
(A)
09:45 Apparat – Suicide
Soundtracks: Stay Still, 2020
11:18 Biosphere – You Want To See It Too
Departed Glories, 2016
(L)
15:00 Ashlar – The First Saturday
Saturday Drones, 2012
18:45 Echospace – Fallen Tribes Reduced
Echospace [Detroit] Presents Echoes In Space, 2014
(A)
19:31 Sonologyst – Planetary Warning
Unexplained Sounds (New Edition), 2020
20:26 Michael Begg & Clodagh Simonds – Witness 3
Witness 3, 2020
22:36 Alva Noto – Xerrox Apesanteur
Xerrox 4, 2020
(L)
24:55 Max Richter – Encounter
Ad Astra, 2019
25:38 Mono-Poly – Maanreflectie
Hainbach remix, 2020
27:21 Cinchel – Porch Swings
A House Once Lived That Never Was, 2014
(A)
29:30 Carmen Villain – Affection In A Time Of Crisis
Affection In A Time Of Crisis, 2020
31:18 Stephen O'Malley – Géante 4 – Layer 5
Géante 4, 2020
32:30 Abul Mogard – Quiet Dreams
Above All Dreams, 2018
33:35 Black Glass Ensemble & Friends – Be Mine In Patience: An Embrace in B Minor
Be Mine In Patience: An Embrace in B Minor, 2020
(L)
34:55 Halftribe – Fader
Archipelago, 2020
36:20 Radio Bulgaria
unknown
37:03 Teleferick – i.history favours the winners
Sixteen Frames, 2017
38:15 Test Card – Monochrome Dreaming Softened The Broadcast
Music For The Towers, 2020
(A)
39:40 Michel Banabila – Scripts of the Lagoon
Scripts Of The Lagoon – Exploratorium, 2020
41:04 Kamila Govorcin – Rito De Muerte
Anima, 2020
41:15 Chris Watson – Gobabeb
Touch Isolation, 2020
43:04 Gia Margaret – Body
Mia Gargaret, 2020
43:10 Aleksi Myllykoski with Tapani Rinne – Lost Marbles
Dark Days, 2020
(L)
44:48 Masaya Ozaki – Subtlety In Reverse
Fluid And Dreaming Of Stripes, 2015
46:12 Andrew Pekler – Nocturne 3
Nocturnes, False Dawns & Breakdowns, 2004
47:05 The Focus Group – Hazy Time
Stop-Motion Happening, 2017
48:00 Les Halles – K
World, 2012
49:24 Sonmi451 – Umi Bear
Eilean 100, 2019
(A)
49:50 Radiomentale – Gotlander
I-Land (Redux), 2020
51:54 Ian William Craig – Comma
Red Sun Through Smoke, 2020
52:50 Sylvain Chauveau – Q
Life Without Machines, 2020
53:29 Sample, THX 1138
THX 1138, 1971
53:34 Elegi – Lys & Lykte
Gap In Time, 2020
54:26 The Future Eve feat. Robert Wyatt – 04.02
Kitsune / Brian the Fox – Kitsune Ring Version, 2019
(L)
55:00 The Insects – This is Where You Say Goodbye
DEVS soundtrack, 2020
55:30 Seabuckthorn – Unforeseen
Other Other, 2020
56:21 Alva Noto – Xerrox Voyage
Xerrox Vol. 4, 2020
57:10 Laurie Anderson – Life Lived Backwards
Heart of a Dog, 2015
58:21 Laurie Anderson – The Cloud
Heart of a Dog, 2015
59:01 Helios – All You Are
Remembrance, 2016
60:00 end
Download Fragmented Dialogue now 138Mb (60:00 min.)
[Alternative download from Archive.org]