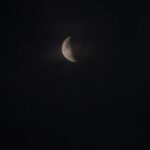 "Because we don't know when we will die, we get to think of life as an inexhaustible well. Yet everything happens only a certain number of times, and a very small number really. How many more times will you remember a certain afternoon of your childhood, some afternoon that is so deeply a part of your being that you can't even conceive of your life without it? Perhaps four or five times more, perhaps not even that. How many more times will you watch the full moon rise? Perhaps twenty. And yet it all seems limitless."

Paul Bowles, The Sheltering Sky
I know, I know – it's a bit risky to use a cheesy teenage love song as the title track of an otherwise fairly dark ambient mix. Even if the song is taken from the Twin Peaks 2017 soundtrack. Some listeners probably won't get past it – and if they quit at that point, they'll miss the 40 minutes of associative transitions in the rest of the mix.
But I personally really love the juxtaposition of this dreamy love song between the feverish mumbling of David Sylvian and Jóhann Jóhannsson's track merging into the almost frightening climax of Stefan Wesolowski.
To quote Woody Brown (the 'industry expert of mixing'): "use your ears, not your prejudices"!
But, jokes aside, this ís a serious mix. With the occasional exception, most of the music in this mix is heavily mutilated: the original tracks are cut-up, shortened, fragmented, edited – often using only a fragment from a track that originally is much longer. A collage like this takes the sound out of its original context to serve its own purpose. That is not meant disrespectful, please let me emphasize this again… (I hope you can hear that in the result!)
Be sure to check out the original sources if you enjoy the sounds – you can find the details it in the tracklist below.
Now, follow me into a movie that you might wanna see sometime… a movie that's happening in the back of your own head…
Edit June 19, 2018:
I'm very happy that the wonderful Headphone Commute has now re-published No Stars – which means it'll get much more listeners now. Find it [HERE]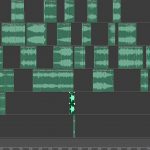 Playlist:
(first time is the start time, time in brackets is the sample length)

00:00 (01:33)
Laurie Anderson & Kronos Quartet – Dreams
Landfall, 2018, Nonesuch 7559-79338-9

01:21 (01:10)
Tomoko Sauvage – Clepsydra
Musique Hydromantique, 2017, Shelter Press SP087

01:25 (01:36)
Christina Vantzou & John Also Bennett – Alfred Hitchcock Haze
Zin Taylor's Thought Of A Dot As It Travels The Surface, 2018, Shelter Press SP092

02:38 (01:14)
Scott Worthington – Interlude
Orbit, 2018, 2018, IIKKI IIKKI005

03:17 (01:34)
Anne Garner – Brink
The Last Sense To Leave Us (A Tribute To Pauline Oliveiros), 2017, Rural Colours RC80

04:23 (06:47)
Swoop And Cross – St. No
Stories Of Disintegration, 2018, Time Released Sound TRS074

09:56 (05:03)
Rhodri Davies, David Sylvian, Mark Wastell – There Is No Love
There Is No Love, 2017, 2017, Confront Core 01

14:07 (04:33)
Rebekah Del Rio – No Stars
Twin Peaks – Music From The Limited Event Series, 2017, Rhino Records 081227933982

17:57 (02:47)
Jóhann Jóhannsson – The Horse Latitudes
The Mercy OST, 2018, Deutsche Grammophon 479 8303

19:17 (03:45)
Stefan Wesolowski – Prelude
Rite OF The End, 2017, Ici D'Ailleurs

22:03 (04:24 )
Tonaliens – Pallas, Pt. 2
Tonaliens, 2018, Edition Telemark 785.02

22:41 (02:36)
Scanner – Cast To The Bottom
The Great Crater, 2017, Glacial Movements Records GM 030

24:38 (02:00)
The Beacon Sound Choir – Drone 3
Sunday Songs, 2017, First Terrace Records, FTR002

25:21 (03:33)
OSA7029 – Osa 2 (feat. Debi Wong)
A Sense Of Belonging, 2017, self-released (Bandcamp)

27:53 (01:06)
Ryuichi Sakamoto – Full Moon (intro)
Async, 2017, Milan 399 903-2

28:54 (03:18)
Joana Gama & Luis Fernandez – Lucid Stillness
At The Still Point Of The Turning World, 2018, Room40 RM492

31:31 (01:54)
Max Richter & London Voices – What Did They Die For
Hostiles OST, 2018, Deutsche Grammophon 479 9865

32:54 (04:00)
Yann Novak – The Inertia Of Time
The Future Is A Forward Escape Into The Past, 2018, Touch TO:105

35:58 (01:17)
Nanook Of The North – Qulingat
Nanook Of The North, 2018, Denovali Records

36:42 (01:32)
Laurie Spiegel – Three Sonic Spaces I
Unseen Worlds, 1994, Aesthetic Engineering 11001-2

37:50 (03:31)
Loscil – Azimuth
Illuminations II – The New Year 2018 Charity Compilation, Dronarivm

40:50 (01:56)
Shall Remain Nameless – Untitled III
Untitled, 2018, self-released

42:22 (01:28)
Koenraad Ecker – L'Incendio Genovese (In Memoriam Carlo Giuliani)
A Biology Of Shadows, 2018, In Aulis AUL001

43:26 (02:34)
Lee Yi – Desecration
An Instant For Momentary Desolation, 2017, Rottenman Editions

44:45 (03:24)
Haarvöl – Senescéncia
Bombinate, 2017, Moving Furniture Records MFR042

46:23 (04:15)
Solo Collective – Ascension
Part One, 2017, Nonostar NR02

49:01 (06:40)
Olan Mill – Molanret
Orient, 2017, Hidden Vibes HV044

55:46 (02:10)
Trio Mediaeval & Arve Henriksen – Gammelkjerringsvalsen
Rimur, 2017, ECM Records ECM2520, 481 4742

Download No Stars Now 136Mb (57:59 min.)
[Alternative download from Archive.org]
[Surround-version (DTS.Wav) here]
[total: 1,106 - today: 1]