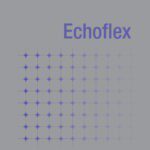 Echoflex is a moniker of David Muddyman, also known as Jamuud. This brought back some fond memories to me. Not only because he was a member of Loop Guru who released a string of memorable albums fusing western dance beats with Indonesian gamelan and traditional Indian music in the 90s. But also because Jamuud was one of the very few artists that released an album of generative music (Niskala, 1996) created with the Koan sound engine – the same that Brian Eno used on his software-based release Generative Music I.
Echoflex is the first a series of FIVE sets that will all be released in August and September: August 1, 15, 29 for parts 1-III, and September 12 and 26 for IV and V.
Echoflex is closer to generative music experiments than to the more beat-oriented sounds of Loop Guru. It began in 2019 as a project to showcase live recordings on modular synthesizers, as well as music to accompany his exhibitions of paintings, charcoal drawings, and monoprints across the UK.
The first three editions of Echoflex present different installments that were used for the "R[o]aming" exhibition, presenting abstract landscape paintings of the Rame Peninsula in east Cornwall and Plymouth Sound in Devon. Long tracks that are reminiscent of Brian Eno's generative exhibition works. Quiet, peaceful flowing soundscapes, perhaps with a somewhat more direct (sharper) sound. An important similarity is that this music is natural, light-hearted and uplifting: you'll find no 'dark ambient' here. The music defines a pleasurable atmosphere which undoubtedly enhances experiencing the paintings it reflects on.
Echoflex IV and V are somewhat different in sound: IV represents Muddyman's "deep love of German electronic music from the 70's: Can, Neu, Cluster and Faust", while V "is influenced by the art of Richard Long, Richard Serra, Robert Rauschenberg and Connor McIntyre, together with the music of Cluster, Harmonia and Caterina Barbieri".
The Echoflex series was originally self-released by David Muddyman on Bandcamp only, but recently the SeeHear label 're-released' it – which in this case means all editions will be made available on many digital platforms: Amazon, Deezer, Spotify, Apple Music, Pandora and some more. There are plans for a physical version in the future, but this may depend on the response on the project.
In addition to the music, full-HD music videos will also be released to present the R[o]aming paintings for all that can not attend the gallery installations.
---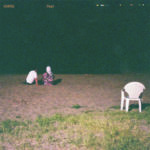 KMRU is the artist name of (Joseph) Kamaru, "one of the leading exponents of the experimental music scene of Nairobi".
Peel is certainly nót his first release: you may want to check out his website for an extensive list of works. But it is his debut release for the Editions Mego label, that recognized the quality of his work – "an exquisite mix of field recordings and electronics unraveling at a repetitive and leisurely pace to expose a rich tapestry of sound with the sheer undertow of emotional content".
With its 75 minutes (four long tracks and two 6-minute) it is a currently unusual long album. KMRU takes his time to set the mood with his captivating layers. And so it is even more surprising to learn that this album was created in just 48 hours: "a time-restricted experiment in texture, influenced by experiences traveling in Montreal, as well as being back in Nairobi just before lockdown". Kamaru prefers to have limitations while making music, as he feels that "more time wouldn't have yielded better results."
The proof of that is in this album. It doesn't feel 'lo-fi', as you might expect with such a short time-frame, but has a full, organic, and natural sound, which would probably have less impact with too much post-production.
For this stunning result, credits are not only due to Joseph Kamaru, but also to Stephan Mathieu who mastered this album with his fundamental respect for the nature of sound.
---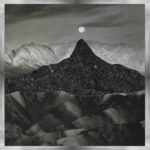 If you're in the mood for some arctic sounds this may be one to check out.

I have literally no clue who Unjin (여운진, Yeo Un Jin) is and what he did before – except that he is from Seoul and that Kizen Records featured one of his earlier albums in 2018.
Besides this, Spotify lists some beat-driven dance tracks from an artist by the same name – (presumably one and the same person).

But there are no beats on Northern Atmosphere. The digital download release presents four different Northen Atmospheres: By Day, By Night, ᓴᓐᓇ (whatever that is), and Ode to the Sea.

Unjin "creates an expression of a dark ethereal ambience characterized by evolving dissonant harmonies and long sustained tone clusters".