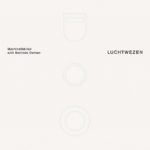 MACHINEFABRIEK with BERLINDE DEMAN – LUCHTWEZEN
It's time for another Machinefabriek recommendation! Rutger Zuydervelt keeps releasing albums and projects in a tempo that is hard to keep up with – all of them interesting enough to check out. But sometimes I simply must skip a few to prevent this blog from filling up with his releases too much.
Zuydervelt also has a keen eye for surprising collaborations, such as this one with Berlinde Deman, a tuba player in various 'unconventional jazz ensembles' such as the Kleptomaniacs and Flat Earth Society.

And unconventional it is, to say the least. You'll find neither jazz nor tuba on this 30-minute soundscape. Deman plays the 'serpent': an ancient wooden wind instrument shaped like a snake (which is considered a predecessor of the tuba). She is accompanied by Zuydervelt playing a church organ and adding electronics.

The sound, or combinations of sounds, is hard to describe. Zuydervelt extracts sounds from the Hess church organ that its builders probably could not even imagine when building it. A short beep in the first minutes suggest a medical monitoring instrument or something, but it soon vanishes into softer and abstract sounds.
In the second half of the piece, the serpent appears more clearly. A beautiful sound conjuring images of ancient rituals, before the organ reintroduces itself with a calm, peaceful theme. Which, perhaps inevitably, gets more ominous in the closing section in which Berlinde Deman also adds her voice.
It's hard to imagine that this is a 'zoom collaboration' since the interaction is as intense as in a live concert. Originally, Luchtwezen ('Air Creature') was intended to be a live concert. But COVID-19 intervened, so it became a studio recording. Lucky for us: for now we can obtain it in a very beautiful custom die-cut sleeve, thanks to SØVN Records.
---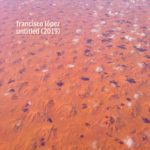 With his vast catalogue created in over 40 years, Francisco López has become 'one of the major figures of the sound art and experimental music scene – destroying boundaries between industrial sounds and wilderness sound environments, shifting with passion from the limits of perception to the most dreadful abyss of sonic power.'
All of this (and more) can be experienced on Untitled (2019), released by the Esc.Rec label. All of these (8) pieces were created in 2019, but their impact is very very different from each other.
In what seems to have become a tradition, they are all named Untitled, followed by a number. In this collection we find Untitled #375, 377, 371, 379, 372, 373, 376 and 378. (So what happened to #374?)
Without titles to guide your imagination, it is entirely up to the listener to interpret the sounds. And, as said, that is quite an adventure, since López doesn't shy away from challenging the listener with some aural extremes.

#375, the opener, sounds like a washing machine running amok and sending out morse code (I really wonder what message the morse codes transmits, but that I must leave up to others to decode). Right after those first 13 minutes, #377 gets a lot quieter and more quiet – at least for a short while, because it slowly builds up into a piercing 'abyss of sonic power'.
Next up is a collection of environmental sound, filtered in a way you will never hear in real-time.
The most extreme track in the opposite of the spectrum is #379, because after the three tracks preceding it, this seems like there is no sound at all. There ís, of course, but you need a headphone or to turn your amp up to hear anything. Which may be a bit of risk when playing the following tracks, even though they are not as invasive as the first three: these are the more comfortable listenings of the set. Until the closing track, that is, which is a heavy banger that is created 'from evolution (no "remix") of source raw materials provided by Disrotted'. Play this one loud to end all parties and get rid of unwanted visitors 😉
In short, for the most part this is not exactly an easy listen, but it's definitely the kind of adventurous dives into unknown sound territories we've come to expect from Francisco López.

(Releases September 1)
---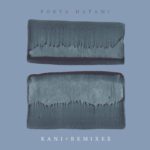 Porya Hatami's Kani EP was originally released in 2013 on the Inner Ocean label. Four tracks with calm and intimate ambient soundscapes "showcasing his intimate take on modern ambient music". As far as I know, this was a digital download only at that time.
Hands up, everyone who already was familiar with this release. Not many, I suppose.
Dronarivm (rightly) thought this EP deserved a proper rerelease and extended the original 27 minutes with an additional 32 minutes of remixes by Darren McClure, Purl, Arovane, Tomotsugu Nakamura and Sven Laux.
While this completes a full album in length, it still as if you're listening to two different EP's. The remixes (four of them: the Sven Laux track is not a 'remix' but an 'Interpretation' – note the subtle difference) deliberately seem to ignore the introvert intimacy of the original tracks, adding brash rhythm tracks, subliminal beats, and additional layers of (environmental) sounds.

I personally prefer the original restrained, almost unobtrusive sounds of Hatami's originals. But the additional remixes are a great showcase of how music like this can be interpreted and lead to different paths and different results.