The second Silent Vigils album is released almost exactly one year after their debut release Fieldem. Coincidence or not: the second title in that 2018 blogpost was a release by Ian Hawgood – who also contributes to the new Slowcraft Presents limited release CDr to celebrate the label's live event in London.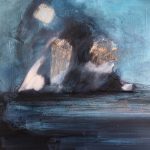 You cannot miss Stijn Hüwels this year: it almost seems that almost every third release in the ambient/experimental genre currently features his contribution.
Lost Rites is the second album of Silent Vigils, a duo featuring Stijn Hüwels and James Murray. It is released (almost) exactly one year after their debut album Fieldem.
According to Home Normal label owner Ian Hawgood (who released this album), Lost Rites presents a different sound compared to the debut album:

"Their follow-up works as a slow departure from this sense of disaster and fixed place to beautiful effect. […] There's a deep undertow of subtle motion guiding this narrative; by the end, our focus is no longer the grief itself but rather the awareness that what was lost is never to return, the realisation that wandering souls must move on as their natures dictate."
The connotations of music like this are completely up to the listener, of course. Whether you associate the music with 'grief' or with 'optimism' is largely dependent on your own personal context.
Nevertheless: the covers of these albums are an indication of the mood: just compare the greyscale image on Fieldem with the colourful cover of Lost Rites (by Małgorzata (Gosia) Łapsa-Malawska).
On the five tracks on this album, Murray and Hüwels (again) seamlessly complement each other, exploring and experimenting, taking their music further, without losing touch of their original base.
---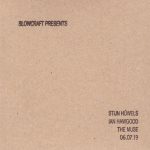 IAN HAWGOOD, STIJN HÜWELS & JAMES MURRAY – THE MUSE 06.07.19
Somewhere around the release date of the Lost Rites album, James Murray organized a Slowcraft (the name of his label) live event at the Muse on Portobello Road in London. A sort of album release party, featuring live performances by Stijn Hüwels and Ian Hawgood (and including James Murray too, I guess), with surround visuals by Damian Rayne.

Visitors of this live event all received this special Slowcraft release featuring a 21-minute soundscape created by Murray, Hawgood and Hüwels. But for those that were not able to attend this evening a few copies of this CDr are available online.

The title may suggest it is a recording of the Muse performance, but it is not: it is a (pre-recorded) studio piece of the trio, intended to be given away at the live event. Which explains the perfectly balanced sound. It is impossible to distinguish the individual contributions of the three performers – they blend in into an immersive soundscape that only has one bad feature: it's only 21:28 minutes long. But for that, there's always the repeat button.