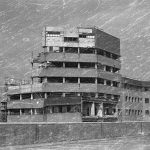 Derelict, the opening track of Replicas opens with a heartbreaking violin lament, a theme retreating to give way to dark and brooding soundscapes evolving into scary ritual drum patterns. The rest of the album is equally dark and haunting… as if you're in a place where the light struggles to get through.
The accompanying photographs (by Craig Tattersall) depict depressing concrete landscapes of recent past.

Part history ( 'this album goes back to my roots: a council flat in South East London'), part present ('at points angry and born out of frustration and angst for the times we are living in […] reflecting the blackening of the Union Jack and the dark position into which the United Kingdom has sunk')
A metaphor for what Brexit could possibly bring, if you want. But in fact is it based on Tristan (Gideon Wolf) Shorr's memories of London, his memories compared to its current state of decline.
'A melting pot of cultures, music and people' in memory, but 'gentrification and regeneration has slowly erased the marginal, changing the culture of a single borough and dissolving communities' as well as 'increasing the poverty divide'.

Not exactly a bright and optimistic picture is painted here. But, as often, there's a striking beauty in decline, as well as beauty in memories of the past – especially with this instrumentation of electronics, violin, and cello.

Replicas is released on the Fluid Audio label, with 20 A6 (and 1 A5) photo prints from Craig Tattersall's Brutal London series, hand-stamped and numbered, scent, in a glassine bag, etc.etc.
You probably know what that means. Too late by now….
Or maybe not yet: at the time of publishing this post a few copies are still available at Gideon Wolf's Bandcamp page.
(Digital copies also available)
---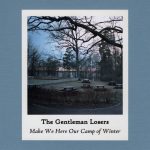 Compared to the Fluid Audio releases, an edition of 500 copies can hardly be called 'limited'. Still all 500 copies of this The Gentleman Losers album are also hand-made, packaged in 'a hand-stamped cardboard envelope with the front covered image printed on a Polaroid style photo paper and two insert sheets'. DIY hand-crafted releases rule, if you are a physical collector! But that is the package, the medium, about form, not content. So let's talk about the music.
The Gentleman Losers are Samu and Ville Kuukka from Helsinki, Finland. This is their fourth full album release since 2006. Their aim was to create a spontaneous, simple, quiet record – and definitely succeeded. As the title implies, the album 'has a sense of introversion to it, a feeling of winter approaching, and of holing up to wait for the seasons to change.'
All quiet and with a nice lo-fi analogue sound, this is as much 'ambient' as it is post-rock – with a sound palette 'that blends layers of haunting guitar melodies, slowly picked lap steel guitar, warm analogue synths, subtle bass lines, minimal beats and spoken word ' (in the track Fish Roam In Winter Water).