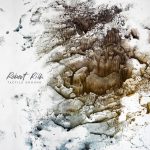 Ever since he built his own analog modular synth way back in 1976 at the age of 13, Robert Rich has become one of the GrandMasters of ambient music. He is the originator of the Sleep Concerts concepts (all-night performances), later resulting in long-form (literally: 8 hours) compositions Somnium and Perpetual.
His (Discogs) discography boasts 55 albums by now, most of them solo works, but also collaborations with artists like Lustmord, Alio Die, Steve Roach, Ian Boddy, Michael Stearns, Markus Reuter.
For reasons unclear to me, his work is often classified as New Age music. Possibly simply because it was there before 'ambient' became the common classification. Perhaps also because he doesn't care about hypes and trends and simply does what he feels is needed, which may mean including flute (or whale) sounds when necessary.
For many (myself included), New Age music's bad reputation is a no-go zone: too superficial, easy-going, effect-oriented. Which is exactly why Robert Rich's music does NOT belong in that category – it is way too intelligent and 'deep' for that. So let's just forget about that classification and simply give the respect due.
Tactile Ground is a 2-hour (2-CD) set divided in two chapters; Location and Dislocation. The album comes with a beautiful set of ink-works – abstract images that somehow illustrate the music perfectly. It is a major release, even in the vast history of Robert Rich's music.

Location opens with a soft piano piece and softly flows into the kind of dreamlike music that is Robert Rich's trademark. As expected from its subtitle, Dislocation is a bit more abstract in sound: the fleeting melodies that can be heard on Location retreat further, the instrument sounds are less recognisable, even more emphasis on the atmosphere. Until, near the end (in Elevations), Robert's wailing guitar sound returns and brings you back to the surface… slowly coming back to where you were when you started listening.
Tactile Ground is available in a 2-CD version and digital download. For those interested in high-resolution digital there's also a 24 bit/96 kHz download version (for the same price).
But that is not all: there is also a surround sound version available!!
I am very happy that Robert Rich goes the extra mile for this, because this kind of music is very suitable for immersive surround sound listening. There should definitely be more surround ambient music!
You can find the surround version on surroundmusic.one (as well as 8 other surround version of other Robert Rich's album!). The download of the surround album also includes optional download of a 24/96 bit FLAC version and a MPR 320 kbps version.
---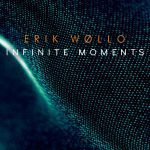 Norwegian composer Erik Wøllo has released his music since 1983. His discography shows more than 40 albums in a steady flow. In recent years, most of his albums are released by Projekt Records, and so is Infinite Moments.
All of these parts were made without the use of synthesizers. They are performed entirely on electric guitars 'processed with the diffused sustain of the EBow and layered note structure of harmonizers. Each loop was recorded live in the studio using a different type of guitar creating rich ensembles of unity.'
The result is a unique distinctive sound, immediately recognizable as Wøllo's.
An inward meditative journey for stillness and reflection.
A satellite floating weightless in space.

liner notes
The looped guitar melodies are like yearning, lonely cries. But at the same time, the music is far from dark: it is accepting the beauty of the vastness.
All track have the same title, and all have a similar calm, longing and endless feeling:
'The tracks retain a similar suspended level throughout. Here are no crescendos or high points.'

Best experienced in one continuous session for maximum 'floating' effect.