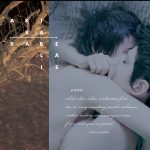 AKIRA RABELAIS – CXVI
Everything Akira Rabelais does is enigmatic. Just look at his website. Or try to understand the manual for his Argeïphontes Lyre software, designed for creating music in a way unrivalled by any other software.
I assume that, many years from now, musical archivists and linguistics will try to interpret his rediscovered music annotations in the same way that scientists unravel the mystery of ancient runes. Will they understand what this was all about? I doubt it. But if they do, it will probably lead to the same questions that arise when listening to his music. Because Rabelais does not conform to current standards, ignores any cool hypes-of-the-moment, and creates music that forces the listener to use his imagination and step outside of any expectation. Surprise is the only constant…
Forms: 1 lufu, (lufo), 2–4 luve, 3 lou, 4, 6 loove, 5 louf, loof, 4–5 lof, lofe, 5 luf, lufue, (Sc. 4–6 luf(e, luff, 5, 8 luffe, 6 luif(e, 6, 8 luve, 6 luwe, luyf, luiff, lwiff, loif), 3– love.

Liner Notes
The underlying concept for this album is quite clear: it is all about Love (or 'lurvvve' – as I recall Woody Allen pronounced it just to emphasize its importance).
The album title CXVI refers to William Shakespeare's Sonnet 116: 'Let me not to the marriage of true minds.' This sonnet gave each album side its own title; the individual tracks are named after their contributors.

The liner notes, however, are strictly academic and hardly leave room for any romantic emotion:
"1. a.1.a That disposition or state of feeling with regard to a person which (arising from recognition of attractive qualities, from instincts of natural relationship, or from sympathy) manifests itself in solicitude for the welfare of the object, and usually also in delight in his or her presence and desire for his or her approval; warm affection, attachment."
… or even more detached references to archaic mediaeval descriptions.
c 1000 Prayers of Exeter Bk. iv. 115 Wæs a cearu symle lufena to leane. c 1200 Moral Ode 314 in Trin. Coll. Hom., Þe þe þos two luues halt and wile hes wel healde. 1595 Shakes. John iv. i. 49 What good loue may I performe for you? 1632 Lithgow Trav. v. 189, I met with an English ship‥whose loues I cannot easily forget. a 1853 Robertson Lect. i. (1858) 25 The same feelings and anxieties and loves.

Liner Notes
The physical release is a double vinyl album: the digital download has each side as one track. But the sides are in fact divided in different tracks, named after their contributors: 'Dramatis Personae' like Ben Frost, Harold Budd (side 1), Kassel Jaeger & Melanie Skriabine (side 2), Kassel Jaeger & Karen Vogt (Side3), Geir Jenssen, Bogdan D. Smith, Stephan Mathieu (side 4).
The exact process remains unclear and is entirely left to your imagination: what is the input of the contributors, and what did Rabelais exactly do to their contributions? I guess most of the music was heavily treated with the Argeïphontes Lyre software, but I don't really know.
Some of the tracks feature spoken word. In Star To Every Wandring Worth's Unknown, the text is recited in French, with a soft seductive voice as if spoken, whispered, through a telephone. I don't know the french language enough to be able to hear if this is a coherent text, but perhaps that is not very important. The message is in the sound of it, the syllables, the pronunciation of the vowels and consonants, the 'ASMR effect' of listening to a poetic voice without understanding it.
(edit: thanks to James Catchpole I now know that the text comes from Max Ernst 's 'la femme 100 têtes').

In If Error And Upon Me Proved, the text is in English, so this is more understandable to most listeners. But the 'ASMR effect' of Karen Vogt's voice is similar.
The tracks are different from each other in nature and atmosphere, causing quite some mood changes. To top it all off, the closing track by Stephan Mathieu features a haunting opera singer embedded in floating background reminiscing the Spellewauerynsherde album.
(Whenever I mention the work of Akira Rabelais I cannot resist to mention this Spellewauerynsherde album, originally released in 2004 on David Sylvian's Samadhisound label, one of my all-time favourite albums. If you are not familiar with this album please do yourself (and me) a favor and check it out. A radio show special, including some exclusive private and unreleased recordings from Akira Rabelais can be found at the bottom of this post.)
Let me not to the marriage of true minds
Admit impediments. Love is not love
Which alters when it alteration finds,
Or bends with the remover to remove.
O no! it is an ever-fixed mark
That looks on tempests and is never shaken;
It is the star to every wand'ring bark,
Whose worth's unknown, although his height be taken.
Love's not Time's fool, though rosy lips and cheeks
Within his bending sickle's compass come;
Love alters not with his brief hours and weeks,
But bears it out even to the edge of doom.
If this be error and upon me prov'd,
I never writ, nor no man ever lov'd.

William Shakespeare, Sonnet 116
Free download codes!
Akira Rabelais is a generous man: MAC-using musicians can download his Argeïphontes Lyre for free (it's almost enough argument to buy Apple just to use this), he previously submitted special remixed versions of Spellewauerynsherde as an exclusive Ambientblog Christmas gift …

And now he offers five download codes for the (digital) version of CXVI to give away to Ambientblog readers!
If you want one of these codes, add a comment below expressing any thoughts related to Akira Rabelais (or any thoughts about lufu, (lufo), luve, lou, loove, etcetera. if you prefer). One week after publishing this post, five commenters will be randomly chosen (not based on content) and receive a download code via e-mail.
[total: 1,859 - today: 1]