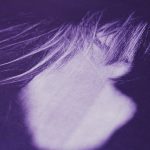 A Harp is not often used in ambient settings. Maybe because of its fairy-like sound that can be associated with 'new age', maybe because it is a plucked acoustic instrument that is easier to use in modern classical/minimal music than in 'ambient' setting.
Stephan Haluska, however, proves all possible prejudices wrong on one of the most dreamy and relaxing albums I recently heard – using just his harp (and a fair amount of echo).
With an MFA in Harp Performance, Haluska (from Cleveland, Ohio) often focuses on "blending traditional and non-traditional harp playing through extended techniques, preparation, tools, electronics, and effects pedals."
"The harp has developed a mystical identity in western culture as the sound of angels in heaven, magic, and dream sequences. Considering these stereotypes, Haluska attempts to expand the instrument beyond its preconceived notions, creating new roles and opportunities for it, and to (de)mystify the harp."
The album is released on Constellation Tatsu ('adventurous with spiritual artistic sensibilities') on cassette and as a download. 40 Minutes (four tracks) of plucked sounds and floating atmospheres. At moments, the gentle tones swirl down like autumn leaves, but Haluska also leaves a lot of quiet space between the quiet notes (New Windows).
The improvisations (I assume) reminded me of the legendary Laraaji album Day Of Radiance, released in 1980 as #3 in Brian Eno's genre-defining Ambient series. The difference is of course that Laraaji plays a zither, not a harp, but the impact of the album is similar. Unfortunately Haluska does not have the advantage of a well known artist producing, but this album definitely deserves recognition.
---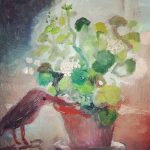 After having worked together on various projects since 2001, Emil Holmstrom and Peter Wikstrom travelled through Indonesia, Cambodia, Thailand and Laos in 2006. The trip inspired them to create Ecovillage.
Sacred World is their fifth studio album as Ecovillage. 
The concept literally breathes "New Age": "a project that wants to explore this spiritual path to union with Life's Essence, The Source of all that is."
Add to that the instruments of their guest musician Gayle Ellett: harmonium, dilruba, surmandal, wooden flutes, e-bow, tanpura, udu, ocean drum, windchimes… and, prejudiced like me, you might be inclined to toss this album aside to the New Age bin.
But that would be a waste. Because actually, Ecovillage is living proof that New Age music can be a rewarding listen, too. It's positive vibrations all over, of course – no 'dark ambient' to be found here – but unlike most 'New Age' music that I know of, I think this album really is 'good for the soul'. 
---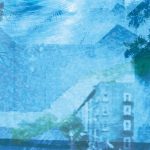 Tokyo-based Rhucle is a prolific artist: his discography shows over 50 releases since 2014 (!). He uses "whatever sounds are generated around him" as a source material, then adding his synthesizer, field recordings, piano and sampled source.
More Beautiful Than Silence is a cassette-release (+ digital download) on Constellation Tatsu, as are the two other releases mentioned above. (This Rhucle album is their 100th release, by the way!)
Whether this music really is more beautiful than silence is open to debate, but it is beautiful beyond doubt.