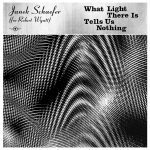 The slow crackle in the intro, the vocal drone and the Robert Wyatt sample that gave this album its name… Janek Schaefer manages to set the atmosphere right from the very start.  And once you start the ride, you do not want to get off before it stops… simply enjoying the trip, wondering what surprising turn is in store in the next moments…

What Light There Is Tells Us Nothing, the title track of Schaefer's new album, is created entirely from elements of Robert Wyatts Cuckooland album (

). The 21 minute piece, created with his custom-made two tone-arm turntable, effect pedals and 'digital collage', was originally created as a multi-channel composition for 2014's Sounds New Festival in Canterbury. With Robert Wyatt's blessing, of course.
The atmosphere is defined by a steady background drone, over which the different samples and fragment are layered. The collage-like structure and use of different musical fragments have the same mesmerizing effect as KLF's 'Chill Out' (1990) – which over time has become one of the classics of the 'ambient' genre. It's a wonderland ride, 'transforming the power of half-forgotten memories into otherworldly works, that are ambiguous as they are evocative'.
The B-side on the (transparent gold virgin vinyl) album offers seven shorter tracks. These tracks are not based on Wyatt samples, but they still 'exist in the same wondrous space' – radiating the feeling that Alice must have felt while walking in Wonderland.
This is music that 'inhabits the spaces between sadness and joy, and relish in the unpredictability of emotional gravity'.
A musical wonderland that only Janek Schaefer can create …
BTW –  It's also available on CD but for unknown reasons this is not offered on the Bandcamp page which only mentions the vinyl and the download version. Try Boomkat if you're looking for the CD-version.
---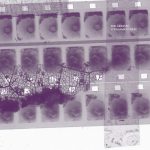 At first listen I thought that Alone Time (the opening track) was performed by a gamelan orchestra. It sounded like that, but it did not have the specific tuning. From the liner notes I learned what I probably should have heard: this is nothing like a gamelan orchestra, but a collection of works for prepared piano. My first association was not thát strange it seems: one of the tracks is called Wind-Up Gamelan. 
Erik Griswold has perfected playing the prepared piano in such a way that it does sound like a completely new instrument, and not just like a piano with beer caps between the strings.
"Griswold's compositions remind us that the piano is never truly knowable, or known. Each composition collected here reveals another detail or way of knowing the piano. The preparations release something in excess of the instrument itself."
At moments the piano sounds like a piano, but more often it sounds like an unknown plucked string instrument, or bells, or something unknown. Or like a gamelan orchestra. But preparing the piano is not the  goal in itself: it is the means to create a playful kind of music that is a pleasure to listen to. Music in which 'the language of the piano is born and reborn.'