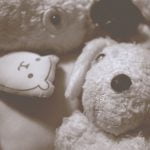 JAMES MURRAY – FALLING BACKWARDS  

Some of you probably wondered why the recently published 'James & Anne' mix does not feature a track from James Murray's most recent release Falling Backwards. The answer is simple: because the mix was finished quite some time before this album was released. Otherwise it would have definitely contained a track from this album, because with this release Murray seems to surpass all his earlier releases in terms of musical soundscapes that are very personal and will resonate with many listeners on an emotional level.
James himself explains the album title (and the cover image) like this:
"When I was a child I would fall backwards, literally. If I felt life unfair or hadn't control of my world, instead of losing my temper I'd go still, silent, bolt upright, close my eyes and just let go. [….] After a few of these episodes the people in my life learnt to see the signs and usually someone would be there to catch me in time."
James forgot about these 'self-destructive childhood descents' but the memories came back after 'recent scans investigating tinnitus discovered an infarct in the back of my brain', possibly caused by historic trauma.
These memories of 'the long free fall through darkness, the outright surrender of the will, and the delicious anticipation of impact' were the inspiration for this Falling Backwards album, definitely his most personal to date.
It is an interesting question: what makes an album full of instrumental ambient soundscapes, 'abstract' as they are by nature, feel so very personal? But, on the other hand, not só personal that it refers to the artist's unique situation only… but 'personal' for the listener too?
I don't know, I can't really explain. I can only assume that part of that comes from the accompanying explanation – with another text and a completely different context the listener's mindset could be framed otherwise. But another (and important) part must be the intention of the artist is clearly felt: the honesty, opennes and vulnerability he's not afraid to show. This can be felt and recognised – and probably is also one of many reasons why James Murray has become one of the more important artists/producers in this genre.
Falling Backwards is not released on his own label Slowcraft Records this time, but on Ian Hawgood's Home Normal. It is the labels last release for this year, before it goes into a (hopefully short) hibernation. The choice could've hardly been better, because this one can go on repeat for a while.
(Interesting – though possibly unrelated – sidenote: Anne Garner's (James' wife)  Wherever You Go gets a somewhat different connotation with the background of Falling Backwards. The track is from her 2015 Be Life album – and also the closing track of the James & Anne Mix. 
BTW: If you want to hear more from James Murray (besides his previous releases), I strongly recommend to check out his live set from October 2017 recorded at his performance for Fluister in Tivoli/Vredenburg Utrecht.