The inspiration for this mix came after attending separate performances of James Murray and Anne Garner.
The music they perform is quite different: James exploring various kinds of abstract experimental electronic soundscapes, Anne performing her poetic emotional songs blending jazz, alternative pop, folk,  spectral lullabies and tender neo-classical arrangements.
As different as their output may be, it still fits together very well – which is no real surprise knowing that Anne & James are a couple living together, and James produces and contributes towards  Anne's music.
I wanted to find out how it would work out when mixing some tracks from their past and recent albums together.
And I found out it works very well, as you can hear yourself in this mix. It also shows that, if the ingredients match, 0ne plus one can be much more than two!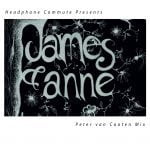 A collaboration of forces between three separate entities, Headphone Commute, Ambientblog, and Slowcraft Records, are proud to present a unique mix by a colleague and partner in crime, Peter van Cooten, of beautiful works from a beautiful couple, James Murray and Anne Garner, culminating a selection of compositions they released individually, as well as together under various project names. Peter then carefully compiled these pieces together into a gorgeous journey of ambiance and voice, and now, along with the appearance on the Podcast, we are honoured to offer this little gem to you as a digital download (lossless, of course) via the new entry of Headphone Commute Presents on our Bandcamp! Whew!
Headphone Commute
Tracklist

This mix is published as part of the "Headphone Commute Presents…" series.
A High Quality WAV version of this mix can be downloaded from the HeadPhone Commute Bandcamp page
Buy the lossless (WAV) version of James & Anne (Mix) now