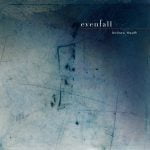 Evenfall, Andrew Heath's new album – following up 2017's Lichtzin (with Anne Chris Bakker) and Soundings – celebrates the time of dusk – 'the dimming of daylight and the coming of night from one particular moment.'
The album 'continues [Andrew Heath's] fascination of, and experimentation with, found sounds and treated field recordings, around which he weaves shimmering electronics and delicately phrased piano', as well as additional manipulated tape loops and guitar.
The 15 minute opener Flow State (Mirror Sea) is a beautiful example of the incredibly rich sound production on this album. Recorded in Cotswold, England late 2017 and this spring, the album radiates the clear atmosphere of the remote woodland surroundings.
In addition to the tracks on which Andrew Heath performs all instruments himself, there are also two collaborations:
The Garden Reveals Itself features the Romanian poet Maria Stadnicka reciting her poem, in a somewhat detached, almost hesitating voice, while Heath's instrumentation illustrates  a garden that is … ehh … revealing itself.
On the other collaboration track Heath is playing modestly in the background, leaving all room for award winning saxophonist Lydia Kenny to impress, subtly following her movements with small details and the recorded sounds of a garden (at dusk). With its (15 minutes length), the way it slowly moves forward yet seems to stop time, and Kenny's heartbreakingly beautiful performance, The Still Of Evenfall (to me) feels akin to Harold Budd's Bismilla Rrahmani Rrahim on his 1978 Obscure album The Pavillion Of Dreams.
Whether you actually are in a garden or not, your imagination will take over … just lie back, relax and enjoy.

The full album contains eight tracks, almost 80 minutes of soothing calm soundscapes. The last two of these are not on CD, but are included with the download that comes with it. Which, by the way, is also available in a limited (25) special edition.
---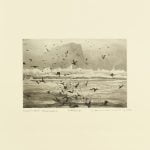 ERLAND COOPER & WILLIAM DOYLE – MURMURATION   
Earlier this year, Erland Cooper released his album Solan Goose, inspired by the Scottish landscape of Orkney. The tracks for that album were all named after local birds, but in Orcadian dialect. The album 'evokes themes of migration, restoration and childhood memory.' Murmuration is further exploring this theme, with each of the three parts of an ambient symphony titled Migration, perfectly merging stretched droney electronics with string and choir arrangements. 

Murmuration, often associated with a flock of starlings, actually refers to 'the sonics of a flock of birds':
"The theme of this record fits with a particular group of sea birds that, unlike many other birds, spend the first 5-10 years of their lives travelling far and wide out to sea in solitude, before settling down to find a partner and lay a single egg."
Erland Cooper partly recycles some of the material of Solan Goose, created in collaboration with William Doyle (previously known as East India Youth), but the result is a quite a different experience. The tracks on Solan Goose could be described as modern classical music (the opening track Whitemaa reminded me of parts of Max Richter's Sleep), but Murmuration is very much ambient – a session in three parts that can best listened to as one.
It's fascinating to compare the themes on both albums (like the choir and string arrangements) and hear how the different context completely changes them.
Murmuration, in this way, might very well also refer to the way familiar themes you have heard before return to you in your quietest sleep.
Murmuration can be found on various digital platforms – there's an overview [Here]
ERLAND COOPER & WILLIAM DOYLE – MIGRATION II