As music became digital and distribution lost the need of a physical medium, a strong counter-reaction also grew: the need to be able to 'hold' something, to collect items, enjoy its beauty and perhaps be satisfied with the idea that you have found something that others haven't.
The return of interest in vinyl albums may be the simplest form to fulfill that need (strongly pushed by the record industry that recognized a chance to regain their position in the market they were so afraid to lose).
But, especially in the niche market that is ambient/experimental music where releases are mostly very limited, a number of 'labour-of-love' DIY-labels emerged that handcrafts the artwork of their releases with such unbelievable detail that each release – vinyl, CD, cassette or even USB sticks – becomes a piece of art in itself. It's not always easy to say if in these cases the artwork supports the music of if the music is an 'extra' to the package.
Some of these labels have gained a cult-status among followers which means that their releases are often sold out on pre-order alone on the very same day they are announced.
I'm not sure if ΠΑΝΘΕΟΝ Records (or the Pantheon label, which may be easier to remember) has already gained such a status and dedicated following; I had not heard about this label until recently. But one look at their release-package is enough to recognise the passion these releases are packaged with. Individually, or in stunningly beautiful wooden box editions.
ΠΑΝΘΕΟΝ Records / Pantheon is based in St. Petersburg, and run by Tim (PiedPaper, Microphones in the Trees who also runs the blog) with his wife Mila.
Below is their release batch for May, a great example of what you may expect from their releases (the header photo shows the boxed editions):

---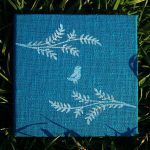 RHUCLE – A LITTLE LONG DAY
Rhucle (Yuta Kudo from Tokyo) may very well be the most familiar name from this batch: his discography covers almost 50 albums since 2013!
The eleven tracks (61 minutes) included on this 'Little Long Day' are like a walk in a Japanese garden (some might even say this is 'a walk in the park').
There's water flowing from every corner, the atmosphere is that from a long and sunny day.
"Using synthesizers, field recording, piano and many other sampling sources he creates a vivid slow-paced ambience full of nature sounds and sparkling resonances."

Strongly advised for "Passive Listening": playing this music in the background while relaxing on a summer evening and/or starry night, preferably (but not necessarily) in a green garden.
---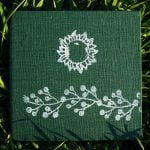 Perfectly timed in this May Set is this album dedicated to the three months of summer: June, July and August.
EugeneKha (Evgenij V. Kharitonov, from Moscow) was a completely unknown artist for me, so I was surprised to find out that his discography boasts over 145 albums (!).
His work is multi-faceted in more than one way: apart from being a musician and sound artist he is also a poet and author of numerous literary publications and books.
He actively developed and popularized a musical aesthetic of lowbit (low bitrate), and thus became known as "The father of Russian Lo-Bit".
The music on Three Months is not an example of that lo-bit – on the contrary! This is a widescreen ambient joyride created with a multitude of synth workstations as well as acoustic instruments like jew's harp, flutes, ocarina, didgeridoo and percussion. Ánd field recordings, of course… it's summer, after all.
"It has many different moods and details, spanning from rhythmic tribal ambiance and field recordings all the way do deep organic drones."
---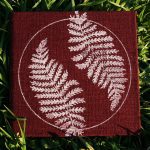 POOL OF LIGHT – ABYSS
Pool Of Light is Anton Bogdanov – originally from Russia but now living in Shenyang, China. Pool of Light is in fact the translation of the Chines characters 光淵 (which Google Translate poetically converts to 'glimmerdeep'!). All tracks on Abyss have Chines Characters as a name, translating to Burn, Memory, Circle, Dim and Abyss.
Three long tracks, alternated with two short ones, where Bogdanov creates layered drone landscapes using guitar drones and traditional Chinese instruments like bows and Zhongruan (a chinese tenor lute).
The "trancendental journey which brings plenty vivid images to mind" is far more intense than Rhucle's garden walk mentioned above (especially in the longer tracks), and thus requires a more dedicated listening session. But it's a rewarding trip, "opening doors to a peaceful contemplation".