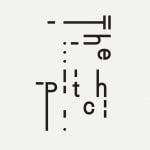 THE PITCH – S/T [κασετα]
I'm afraid I cannot tell you much more about The Pitch than you can't find out yourself (which may be the case in most of the 'recommendations' on this blog: they are merely suggestions about where to look for some new surprises). I only found out about this quartet (Boris Baltschun, Koen Nutters, Michael Thieke, Morten J. Olsen) myself recently, when the stunning Frozen Orchestra album (with the Splitter Orchestra) and this charming cassette (= κασετα) dropped in my mailbox. The cassette version is limited to 120 copies, but there is a digital download version too.
S/T [κασετα] presents two 12 minute tracks. From the sound of the first track you might have the impression that this sound is mainly created with electronic means, but it's not. Or only partly: the instruments are an electric pump organ, upright bass, vibraphone, clarinet, and additional computer and cassette delay. Molecular Motions starts as a drone, but gradually the composition gets more complex, especially in the second half of the Pillars B-side: "Bowed and struck vibraphone tones resonate with bowed bass harmonics, doubled by clarinet and reinforced by organ and sine tones."
In the way this composition evolves, I started to hear (or perhaps imagine) a striking similarity with De Tijd, a composition by Louis Andriessen from 1982 – especially in the second half of Pillars.
I'm sure this is a coincidence: De Tijd is not particularly widely known and furthermore it is 36 years old. But it's fun to check out anyhow, so here's a Spotify link to it here so you can compare yourself. This is an impressive performance by the Schönberg Ensemble and Netherlands Chamber Choir directed by Reinbert de Leeuw. Best played loud, by the way!
The similarity of these two may be in my mind only (tell me if I'm wrong), but still… it's fun to compare the Pitch quartet piece Pillars with the full orchestra+choir composition of Andriessen's De Tijd.
I like to imagine that this 1982 version could have been a full orchestral re-arrangement of the second half of Pillars.
But – enough about that. Even without this similarity, S/T [κασετα] is interesting enough in its own right. With their particular electro-acoustic setup The Pitch manages to create "an atmosphere where the listeners perception is slowed down to make the smallest sonic details move from background to foreground."
---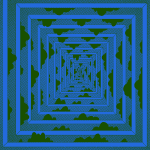 Belgian bass clarinetist Ben Bertrand hooks up his instrument to a string of electronic effects effects to create a unique personal sound that is electronic and acoustic at the same time. His minimal compositions are dreamlike and warm and nicely wander off the beaten path, unhurried.
His work may be influenced by minimalists such as Steve Reich and Terry Riley, but Bertrand does not simply copy their composition techniques.
"He makes use of his clarinet – effects and loop pedals – to construct modal, hypnotic grooves, over which he plays microtonally-inflected clarinet phrases. The use of loops permits to phase patterns on which simple and audible processes let him explore musical concepts."
NGC 1999 (the album and track titles refer to the 'reflection nebula' in the Orion constellation, 1.500 light-years from Earth) is Bertrand's debut album, released on Les Ateliers (/Albums) Claus. But it is not his debut release: that was his 4-track EP Era/Area released in january 2017, which can still be found on Bandcamp