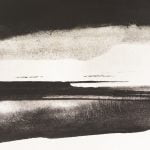 SILENT VIGILS – FIELDEM  
I admit I had to look up the meaning of the word 'vigil', to find out it refers to a 'period of keeping awake during the time usually spent asleep, especially to keep watch or pray'.
Add 'silent' to that moment and the name of this duo perfectly describes the atmosphere of their music. Perfect for listening while awake in moments usually spent asleep.
Silent Vigils is James Murray (UK) and Stijn Hüwels (B). Both are prolific musicians, producers as well as label owners: Slowcraft and Slaapwel, respectively. But Fieldem is not released on any of their own labels, but on Home Normal.
The album presents four long pieces with titles that seem to refer to locations that could be in the UK as well as in Belgium: Molenbrook, Mossigwell, Zwartewall, Fieldem.
"Places neither here nor there; half in the world, half in the mind."
45 Minutes of peaceful, unhurried music – a "dialogue motivated by mutual respect and revolving around our shared love of the minimal, the graceful and the understated."
---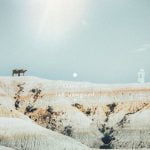 IAN HAWGOOD – 光 (HIKARI)  

Ian Hawgood does not need any further introduction I suppose. Even if you're remotely interested in the 'ambient' and 'experimental' genre, you'll have met his name on many occasions, be it as the curator of the Home Normal label, or as a multidisciplinary artist, educator, instrument builder or sound engineer.
He has lived a great part of his life in Japan but currently resides in Warsaw, Poland. The two different cultures are reflected in the titles of the tracks on this album: the first five are in Japanese, the last four are in plain English. Which, by the way, does not mean the music in these two parts are completely different: after all Ian Hawgood is the same person, wherever he lives.
光 (Hikari) translates as "Light" or "Shine". Judging by the titles alone, there's a difference in atmosphere that seems to tell a personal story: while the Japanese titles refer to concepts as Preface, Waves, Refraction, Journey and Extinction, the English titles sound sadder than that: Every Ending Is A Little Sadder Now You're Gone, Hurt Whispers On. Gladly, the closing track of the album is titles A Light That Never Dims.
The first thing you'll notice is the deliberate lo-fi sound quality of the recordings, which is perhaps not what you'd expect from a seasoned sound engineer. The music is performed on his childhood piano, using old disused reel to reel recorders and an array of vintage synths.
The result is that these pieces are very intimate: it's as if this album was specifically recorded personally for you.
光 is not released on Home Normal, by the way: it is number 14 in the Eilean Records release series.
"color: blue. season: summer"