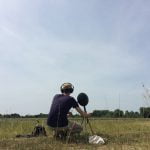 JEROEN DIEPENMAAT & VARIOUS ARTISTS – OFF TRACK (+ KEIZERSRANDE SOUND WALKS)
Esc.Rec (best pronounced loud) is a highly conceptual label. A 'platform for adventurous music', where many releases take the form of a cross-media art project – sometimes even in editions of ONE (in which case the price reflects its status of an art object instead of a simple CD-release).
Tak, a Jeroen Diepenmaat project released earlier this year, is a great example: different vinyl releases (Deuter, greek folk music, Mormon Tabernacle Choir) recorded when played with wooden (bamboo and reed) 'needles' that slowly damage the original records and thus produce a deteriorating repetitive pattern. That, in itself is conceptual enough, but on top of that the recordings of this art installation was offered as a USB stick fitted in a branch (with an additional 4 hour bonus track). Try storing thát somewhere in your vinyl or CD collection!!
Off Track – a new Jeroen Diepenmaat and Esc.Rec project – is part of a 4CD-collection of (four) soundwalks that were conducted by Jeroen Diepenmaat in and around Keizersrande, just outside Deventer (NL). Walks were organised in different seasons (march, june, october 2017, and january 2018), and a composition from the location-recordings was created in real-time. The lucky few attending the soundwalks received a recording of it afterwards. These four walks are now collected in this limited-edition (74) handmade box. Each of the CD's titled with the date of the soundwalk: 26032017, 25062017, 29102017 and 28012018.

As you'd expect, these are purely environmental recordings, documenting the Keizersrande area in Holland (sometimes also demonstrating that it is hard to find a spot in Holland where you can nót hear human impact).
But this  collection gets a completely different dimension from the additional bonus compilation download called Off Track (not on CD and – unfortunately – not available separately), on which the soundwalk recordings are used to create remixes by different artists. Artists include some more or less familiar names such as Machinefabriek, Francisco López, Teleferick, Gluid, BMB con., podL, Michael Ridge, Nlus, Vehikel and Staplerfahrer, and Les Horribles Travailleur contributing 4 tracks, one for each different walk.
By re-arranging and filtering the source material and adding electronics, the new tracks become an alternate reality of electro-acoustic sounds. Changing the original recordings in this way teaches us never to take any environmental sound for granted. It also guarantees that you will probably hear something completely different the next time you'll visit Keizersrande, near Deventer.
---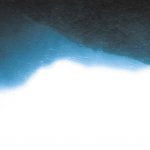 DEREK PIOTR – UNDERLINED 

Poland born Derek Piotr has released music since 2011, his work primarily focused on the voice (he has been intern to Meredith Monk). Which does not necessarily mean the voice is recognisable as such, of course: it is merely the source with which the electro-acoustic music is created.
On this album, tracks from various previous albums (Agora, Tempatempat, Drono, Airing, Forest People) are remixed by artists from Richard Chartier's Line label.
Underlined opens with a remix of Value System by Piotr himself, followed by re-works created by giants of the genre like Simon Whetham, Stephan Mathieu (delivering a 20 minute version of Wash), Pinkcourtesyphone, Steinbrüchel, Steve Roden, AGF and France Jobin.
In most tracks, you'll have to dig deep to retrace the original (vocal) sources in these remixes: "though Piotr often warps the human voice into unrecognizable terrain, at the hands and desks of certain producers, the artist's voice loses even more of its discernable quality."

The album slowly but inevitably increases in intensity: from the almost inaudible deep sounds from the opener and Simon Whetham's Bhadrakali to the pulse-driven closing track by France Jobin.
This entrancing collection demonstrates why these artists (and the Line label itself) represent the cream of the crop of electronic experimental music.