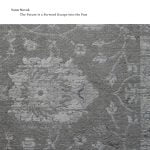 Before listening to this new Yann Novak album – his second title for Touch -, it's good to reflect a bit on its somewhat enigmatic title.
"The Future Is A Forward Escape Into The Past considers the relationships between memory, time and context. […] The album's conceptual roots stem from 'The Archaic Revival' by American ethnobotanist and psychonaut Terence McKenna. In it, McKenna theorizes that when a culture becomes dysfunctional it attempts to revert back to a saner moment in its own history. The text's idealism was influential to Novak in the '90s, but today the theory bears a darkly-veiled resemblance to the rise of nostalgia-driven nationalism. […] McKenna's idea highlights our propensity for selective memory, seeing history through the lens of memory instead of fact."
The impact of Novak's music is coloured by the context of this philosophical background. The overall atmosphere in these four parts (the album is best played in one continuous sequence) is dark and sombre – which may very well be my own personal association with 'the rise of nostalgia-driven nationalism'.
But at the same time you can listen in a completely different way, realising that Novak "looks back at his own older works though this (McKenna's) lens as inspiration".
Or, if you prefer, you can have your own associations with these timeless deep drone tracks combining sub-bass with subtly detailed distorted effects and some distant fieldrecordings – a sound that seems to originate from an immeasurable vast space too big to comprehend.
"The album is a study in perception and alteration, manipulation and awareness, effectively capturing Novak's command of emotional texturing."
---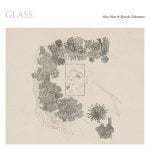 ALVA NOTO/RYUICHI SAKAMOTO – GLASS
Ryuichi Sakamoto's 2017 album Async got well-deserved raving reviews – it recently got a follow-up release Async – Remodels with reworks of the tracks by giants like Oneohtrix Point Never, Alva Noto, Fennesz, Johann Johannsson, Yves Tumor, Andy Stott and the likes. And there's also the ASync International Short Film Competition, of which the winners will be included in the forthcoming BluRay edition of the album (most of them they can be viewed online already by the way).
But these are not the albums I want to present now: they'll surely find their way to an interested audience easily.
With its single 37 minute drone-based soundscape, Glass is quite a different project. It's the next in a series of Sakamoto/Noto collaborations that included the soundtrack of The Revenant, Summvs, and before that utp_, Insen and Vroon.
Glass is a recording of a live improvisation performance at the architect Philip Johnson's Glass House, in New Canaan, Connecticut, a remarkable 'pavilion for viewing the surrounding landscape' and a perfect setting for a slow-paced soundscape like this. The ground plan of this pavilion is used as the album cover image, which gives an idea of its beautiful spaciousness.
Using contact mics they incorporated the glass house as an instrument along with other kinds of (mostly glass-related) instruments, capturing its original intention in sound. Though the changes are gradual there's actually a lot happening in the recording.
There are many different kinds of sounds – organic, synthetic, electronic, acoustic – but each particle finds its own place in its surrounding environment.
Even if that environment is different from the Glass House it was originally created for.
(Below is a short sample fragment from the audio recording but I strongly recommend watching the 26-minute video of the performance to get an impression of the beauty of this piece).
Alva Noto and Ryuichi Sakamoto – site specific performance at the Glass House
Ryuichi Sakamoto/Alva Noto – Glass (preview sample)
---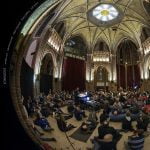 This Berlin-bases group was formed in 2014, after the release of the Hayward Tuning Vine, "an interface for exploring microtonal tuning that allows for direct and intuitive interaction with the pitches normally hidden between the keys of the piano". Or, in other words, the group investigate "the inner dimensions and outer limits of Just Intonation."
For the uninitiated (like myself) that may sound as complex as it is. But as a listener we don't need to truly understand the theory behind it to enjoy the musical result (or not to enjoy it, of course). We have our ears. And there definitely is a lot to be enjoyed on this release.
Tonaliens are Hilary Jeffery (trombone), Robin Hayward (microtonal tuba), Werner Durand (invented wind instruments), Ralf Meinz (live sound, electronics) and Amelia Cuni (voice on Vesta).
Vesta and Pallas are two long-form drone pieces, divided in four parts because of the release format: vinyl. I personally think that a release on CD or digital would've better suited music like this because the music can be played uninterrupted, but it's a policy of the Edition Telemark label to release all their titles on vinyl only.
Both performances are recorded live in 2015: Vesta in Amsterdam during that year's Sonic Acts festival, and Pallas in a somewhat smaller setting for the Labor Sonor series in Berlin. Amelia Cuni only performs on Vesta, her voice somewhat reminiscing an Indian raga performance. Pallas is fully instrumental.
The music and chord explorations are a fascinating interplay of acoustics and electronics. With the kind of timelessness that is induced by the prolonged chords it is easy to see why Hilary Jeffery referred to the Tuning Vine as a spaceship, and the Tonaliens as "explorers of parallel harmonic universes that have remained largely obscured for so long."
How to end a performance that explores the spaces where time seems absent? Just a long fade, perhaps, to illustrate that the sound could go on for an indefinite time? Not this time… Surprisingly something strange seems to happen in the last minutes of Pallas: it's as if one of the performers suddenly loses concentration and control over his instrument, and so the performance comes to an end. Somehow, it's a funny kind of relief: the Tonaliens appear to be human beings after all.
TONALIENS – VESTA (fragments)