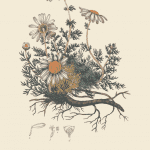 Carefully hand-crafted 200 copies in 10 different variations, a release as beautiful as we come to expect from the Fluid Audio / Facture label. You can still look at and drool over the release page, but you cannot touch since they are quickly sold out as Fluid Radio releases usually are. But fortunately there's always still the digital edition to check out.
Little Things is the result of 18 months of "exploring common threads and interests" between two artists coming from different backgrounds: Nhung Nguyen (Sound Awakener) from Vietnam and Maria Papadomanolaki (Dalot) from Greece. They exchange ideas and sounds, "peeling off layers and sculpting textures and moods prompted by words, memories and places", in every iterative transformation of the tracks, exploring "personal interactions, field recordings of soundwalks in parks, on the streets, hydrophones in rivers and contact microphones on bridges all delicately move to the ethereal; building up atmospheres of dreamsequences that differ between each of the 10 tracks."
Their musical dialogue creates many associations, probably different for each individual listener, but also places where you 'can feel both familiar and lost'.
In the words of Rainer Maria Rilke:'the only journey is the one within'.
---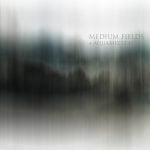 Michael Denton and Anna McCrickard have been working together as Overlap since 1999. Their music 'is created alongside the imagery': their work includes single screen videos, VJ-ing, audiovisual performances and installations. Many examples of their visual art can be found on their website.
Medium Fields, however, is an audio-only album and not a multimedia project. Overlap proves that they don't necessarily need multi-media to paint their atmospheres. The video images will probably be a great addition at live performances, but the audio alone works fine, too!
Medium Fields presents nine "tracks of soft electric sub station hum merged with moody drawing room melodies".
As an additional bonus to this 50 minute album a 12:40 live track Aquamix is included with the download.