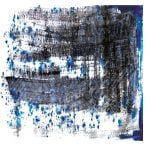 This is the very first time they release a collaboration album, but Aidan Baker and Gareth Davis are such familiar names in the experimental/improv/ambient field that you can probably imagine how they sound when working together.
On these four tracks, Aidan Baker builds the basic fundament over which bass clarinettist Gareth Davis improvises. The atmosphere is calm, meditative… there are no disruptive explosions, but there is restrained tension too.
Occasional inclusion of subtle field recordings complete these auditive paintings of vast, empty, desolate landscapes.
Baker and Davis are experienced musicians, performing solo as well as in various constellations. Aidan Baker as part of Nadja and B/B/S (with Andrea Belfi and Erik Skodvin/Svarte Greiner), and Gareth Davis as a member of Oiseaux-Tempête and A-Sun Amissa and collaboration projects with Machinefabriek, Elliott Sharp, Merzbow and Scanner. 
These sessions were recorded in Muziekhuis, Utrecht (my hometown! Why did I miss this?!) in november 2016. A dark month of winter – some of its coldness resounds in this album.
But not éverything is cold and desolate: Signs is filled with the promising sounds of children playing.
---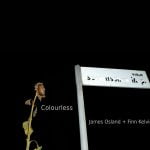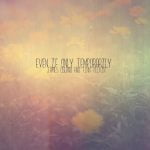 Another duo focusing on live improvisation, but less familiar names (for me).
Colourless is the duo's first full-length debut, according to the Flaming Pines label releasing it. Strictly spoken it is not their first release: the (4-track mini-album) Even If Only Temporarily was released on Audio Gourmet  only a few months before. I assume that the music on both titles come from the same sessions.
James Osland is a multimedia artist from Devon, UK. He has previously released a few solo albums (such as Departures which was featured in August) and runs the Elm Records (net-)label on which Finn Kelvin (Devon, UK) released on various occasions and under different names.
Both titles present well-balanced and intimate live-improvisations.
Colourless "aims to explore the unforgiving locations we conjure in our minds during periods of disconnection and isolation."
"Even If Only Temporarily" was the realisation that everything in life is temporary, but "understanding this intensified all the experiences that were happening".
Their collaboration  finally resulted in something that is now no longer temporary: a physical CD/Download ánd a Name Your Price download for all to enjoy!