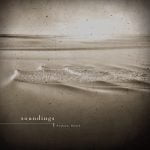 Soundings is released almost simultaneously with Lichtzin, his collaboration with Anne Chris Bakker, who also makes his appearance on a few tracks (Winter on Noorderhaven and Happenstance).
So it is no coincidence these two albums are alike in their contemplative atmosphere.
Soundings is a remarkably long album (9 tracks, 95 minutes – the last two tracks are bonus tracks that not on the CD-version but are included in the download that comes with it) for which Andrew Heath is inspired by 'the quiet sounds of people within interior spaces – footsteps, talking, even whispering – the sound of voices that are often rendered so faint and that are buried so deep that they become unintelligible, simply leaving a trace of speech.'
The found sounds and field recordings are embedded in soothing musical textures, 'set against quiet piano phrases and shimmering electronic treatments.'
The soft piano sounds and patterns on some tracks (Speedwell Blue, Happenstance) more than once reminded me of those on Brian Eno's 1-1 (on Music for Airports). Quiet, contemplative, generative motifs that perfectly fit the surroundings.
But, unlike Eno's generative projects, Heath's music is not intended to be 'ignorable' ('… as well as interesting'). Each track has a different instrumentation, and solo instruments (like the cello played by Stéphane Marlot, and the clarinet played by Bill Howgego) are clearly placed in the foreground. Some details are presented much louder than the accompanying sounds, giving extra dynamics to the soundscapes.
Together with Lichtzin, this album is definitely one of this year's personal favorites. Sometimes described as lower-case music, but I clearly prefer to use capitals for releases like this!
---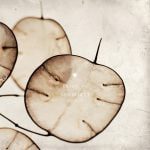 The prestigious Eilean Rec label's releases are referring to a map with 100 points – 'each point is associated to a number. Each number to a release. Each release will fill an area on the map around one point, giving it colors, relief & details. Once 100 releases are done, the map will be full, the label will end.'
Eilean have released a continuous string of great releases, so seeing that this Sonmi451 release was numbered #99 scared me a bit. Are we close to completeness?
But fortunately the release numbers are not sequential; they refer to a specific point on the map. If I'm correct this is the 63rd release so we can expect some more before it's over… phew!
The Eilean map is an imaginary one, but Bernard 'Sonmi451' Zwijzen's (tenth) album is also dedicated to  'the rivers and streams, crossing the exquisite mountain-landscape of the Alps and Dolomites in the beautiful region of Southern Tirol.'
Like these rivers and streams, Zwijzen's music is refreshing and bright – 'exploring the inner aspects of sound and stillness, the cracks and loopholes that exist between sounds.'
His unique choice of instruments and sounds (like the harp and the whispered vocals) have become his trademark sound, a sound unrivalled.
Another pearl in the collection of the label as well as in Sonmi451's discography!
Sonmi451 – Brenta
(Oh… and to avoid disappointment: with this particular concept the label has become very popular among collectors, so the sad news is that the physical editions sell out in no-time. As did this one: sold out even before the release date. But the digital download remains).
---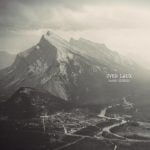 Berlin-based Sven Laux is an 'artist, composer, sound designer, musician, DJ and film addict' and all of this  skills can be heard on his latest Dronarivm release Paper Streets.
The 'organic, neo-classical journey heard through a cinematic lens' presents a large-scale symphonic sound that, on close listening, seems to be performed by an artificial orchestra. Which is no surprise of course, since Laux has created electronic music since 1998 'after discovering a talent for meticulously sampling and looping audio.'
The string arrangements seem to reach you from within a dream – that alienated feeling even strengthened by the subtle sound details in which the virtual orchestra is embedded.
'The artist's work bares a sense of detachment & reflection that usually occurs with the passing of time.'
In this I feel this music is related to that of Field Rotation, Bersarin Quartett and maybe A Winged Victory For The Sullen. It'll definitely appeal to the same audience. But in fact Sven Laux does not need comparisons like that at all: he claims his very own spot – one that will become a reference point for others probably soon.