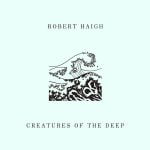 A muti-faceted career spanning more than 35 years: Robert Haigh has released experimental ambient as Robert Haigh and Sema in the early 80's (apart from collaborating with Nurse With Wound), 'ambient drum 'n' bass' as Omni Trio in the 90's, and modern classical and minimal music under his own name since 2005.
On his latest album Creatures Of The Deep, the piano (again) is the main instrument, but it is not a solo piano album: there are some  tracks where the (sometimes processed) sound of piano merges with ambient electronics – 'an underground vantage of a meeting with Harold Budd and Erik Satie'.
One exception to the rule, I remember Phaedra: a full-synth track that is slightly different from the rest of the album and feels a little bit out of place here.

Haigh's music indeed merges both sound worlds in the way Harold Budd does, and his piano pieces remind of Satie's work – but of course he has enough musical experience to leave out the comparisons.
Occupying 'a space between music and mystery', Creatures Of The Deep is an enchanting  and subtle album.
'The closer we examine, the more is revealed, and the less is defined.'
---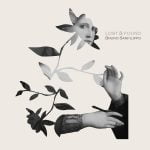 OK – I'm biased of course – have to admit that first. How can I nót be, with the opening track called Peter (this track was also a part of the Ambientblog Anniversary collection – it was called For Ambientblog then).
Pianist/Composer Bruno Sanfilippo's new album is a collection of five tracks 'that were once buried and lost in other collections'.
Four previously released tracks that get a new life and meaning in the new context of a single album.
The fifth track is a previously unreleased 'bonus track'  that was rescued from the studio hard drive recorder.

Born in Argentina, living in Barcelona since 2000, the classically trained composer has created a personal style – in sound as well in his compositions.
'Alternating between the exploration of minimalist piano concepts and electro-acoustic music', the piano is always interacting with an electronic environment. But its sound (analog mastering by Ian Hawgood) is very natural, a sound like a dreamy warm bath. Or expressing the melancholy of feeling alone, like in the 12 minute Solitario, a piece like a soft Harold Budd improvisation.
---